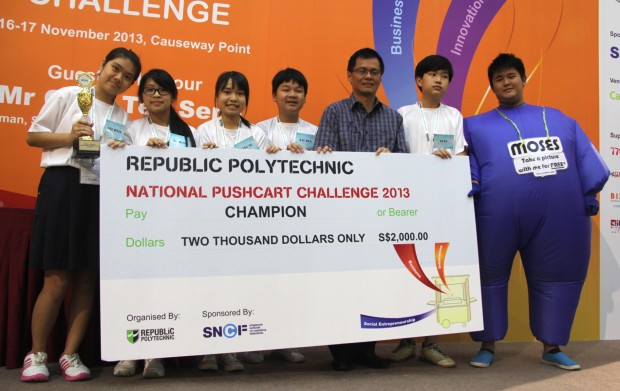 The 7th National Pushcart Challenge was held at the Causeway Point Atrium on Nov 17, 2013. It was organized by Republic Polytechnic (RP), in collaboration with the Singapore National Co-operative Federation (SNCF). Students from 15 secondary schools competed for prize money totalling $6,000 by demonstrating the effectiveness of their collaboration with social enterprises to develop new or enhance existing products, and then selling them in pushcarts to the mall's patrons.
This year, the winning team hailed from Bukit Merah Secondary School. In partnership with social enterprise Members Owned Social Enterprise & Services (MOSES), the team sold trinkets like photo frames, handmade paper flowers and perfumed bottles with origami. Their sales were aided by a charming mascot wearing an inflatable sumo suit that persuaded the mall's patrons to buy trinkets from their stall.
It is the second time that Bukit Merah has won, marking the first consecutive win in the event's history. However, winning was not the most important issue for the team.
Ms Huang Lijing, the teacher in charge of the team, felt that while their triumph was indeed a joyous occasion for the students, it should be the life lessons that they should pay closer attention to.
She said: "I think the students have learnt how to work together, and confidently sell their products to people they have never met. I don't think such communication skills can be learnt at school. It has to be practiced in real-life, and this kind of event provides that opportunity."
Her statements were echoed by Muhammad Faud, a member of the Montfort Secondary School team.
"This competition is a first-time experience for me," he said. "It gives me an opportunity to work with the beneficiaries of social enterprises as well as gain confidence in public speaking; things that will benefit me in life."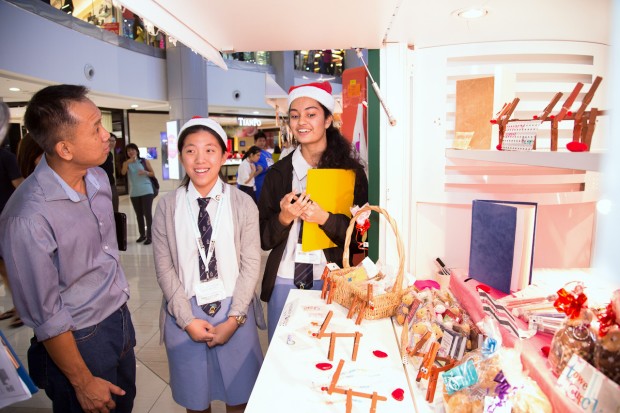 This year's edition of the competition also saw the official signing of a memorandum of understanding (MOU) between RP and the SNCF. Ms Dolly Goh, Chief Executive Officer of the SNCF, was positive about the many possibilities that come with the MOU.
"It will definitely aid in nurturing socially-responsible young entrepreneurs for the future of this industry," she said.
Students from the Diploma in Social Enterprise Management (DSEM) course can look forward to a couple of things due to the MOU – a refined curriculum that will better prepare them for a future in effective business marketing while helping the community and more internship opportunities.