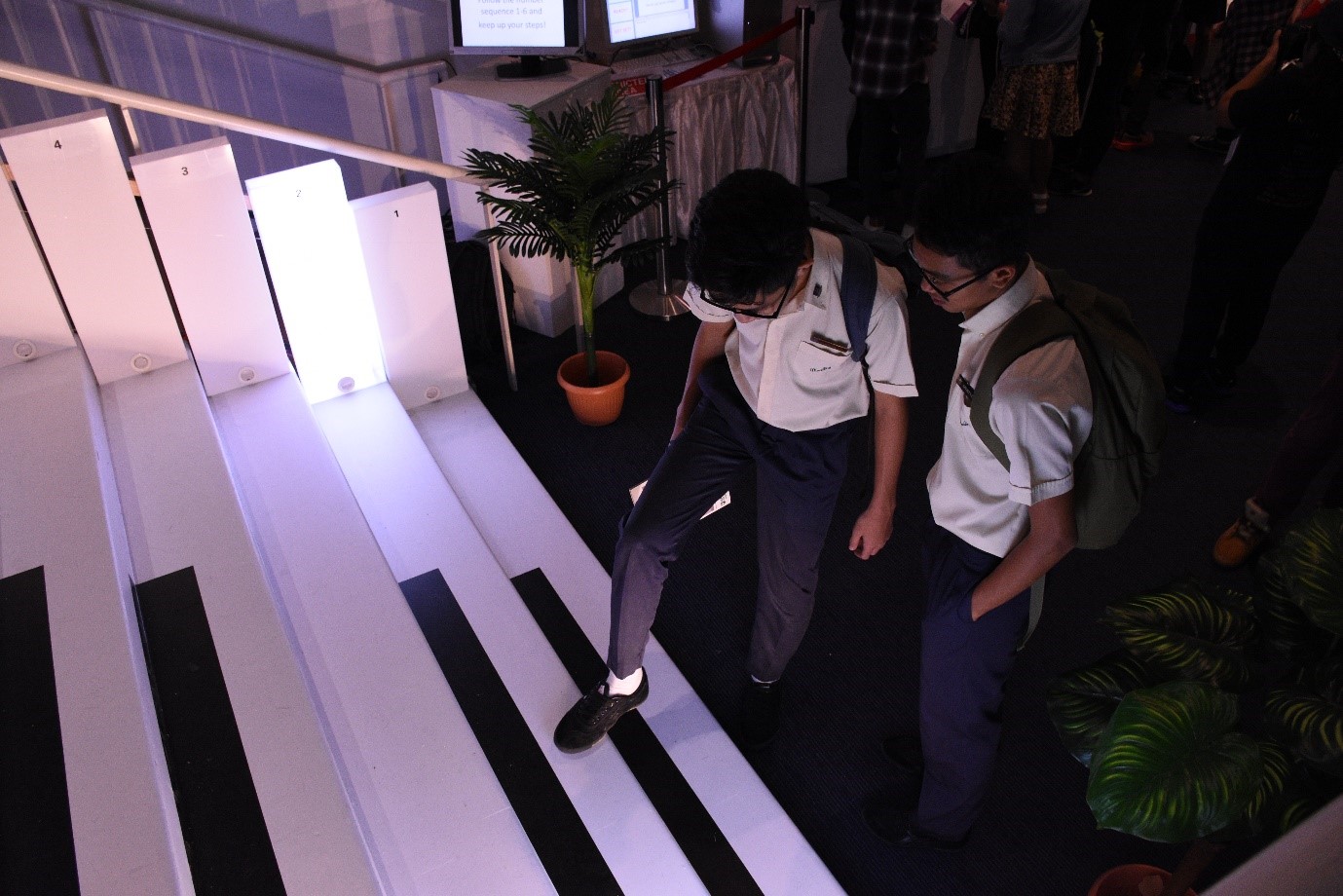 Whether it's hanging on to a mini rock climbing wall or getting a hang of coding, visiting secondary school students at the Republic Polytechnic Open House got a taste of the wide range of courses the poly has to offer.
These activities found at the booths of School of Sports, Health and Leisure (SHL) and the School of Infocomm (SOI) respectively are just some of the many interactive exhibits awaiting secondary school students and their parents at the three-day event, which kicked off on Jan 5.
Over at the School of Technology for the Arts (STA), for example, visitors could have a "Step Up" dance-off with the Steps Piano. It works through sensors by lighting up with sound and music as people step on the stairs.
"The piano is a great example to display as creating a new innovative musical instrument is something we learn in our diploma," said Eva Nursyazwani Mohamed Isa, 18, student in the Diploma in Sonic Arts programme, one of the five diplomas offered by STA.
Visitors to the Diploma in Engineering with Design booth, on the other hand, would be treated to a Do-it-Yourself Arcade Machine.
"The purpose of this display is not only to allow the visitors to play with the arcade, but also to show them what they can expect to learn in our course," said 17-year-old student Adrian Mendoza.
For the sporty types, various adrenaline-pumping activities await at SHL, where, in addition to the rock climbing wall, they could try the pole vault, remote controlled car football and mini golf.
Woodlands Secondary School student, Mohamed Isfaelil, 15, was glad that he managed to try out the activities.
"The interactive booths are a good opportunity to explore what the courses have to offer and they are fun as well," he said.
This year's Open House also saw the launch of two new facilities for the polytechnic, which marks its 15th anniversary this year.
The two facilities are the RP-Unity Teaching Retail Pharmacy, a joint teaching retail pharmacy with NTUC Health Co-operative Ltd, and the RP Unmanned Aerial Vehicles (UAV) training centre.
The RP-Unity Teaching Retail Pharmacy is the only such dedicated facility among the polytechnics here and will enhance the training of students in the area of retail pharmacy operations. The UAV centre is the first dedicated UAV among Singapore's institutes of higher learning and will provide training solutions to drone users on UAV operations, regulations and safety.