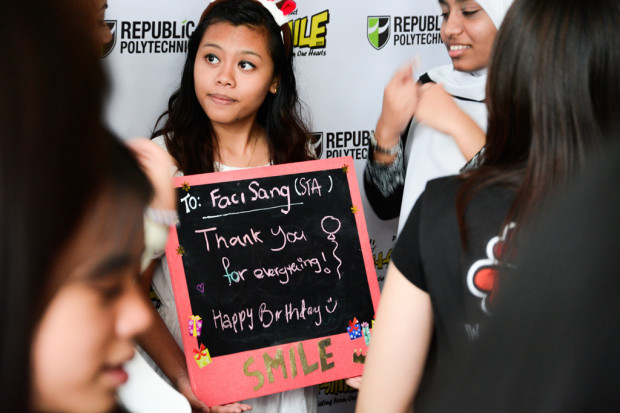 Giving high-fives to strangers, greeting students with a cheery "Have a nice day!" and taking selfies with one another. These were some of the things participants of Project Share-A-Smile carried out while plugged in to their earphones on Dec 16.
Project Share-A-Smile is an annual campaign organised by the Student Council to promote kindness among students and staff on campus.
The added twist this year comes in the form of the MP3 Experiment, where participants download a MP3 file into their phones and act out the instructions delivered into their earphones via a narrator.
"We are able to make a difference in anybody's life, by simply smiling or being happy especially to people who are stressed out in an environment like school," said Joshua Authur, 21, Vice-President of the Student Council.
Anticipation mounted as around 96 participants waited as the timer counted down at South Agora. The moment the clock struck 1pm, they sprang into action based on the MP3 file's instructions, starting with freezing on the spot for 15 whole seconds. In total, eight actions were carried out, the zaniest one being able to form a long stretch of the human wave.
Ms Wu Jiezhen, Director of The Hidden Good, was also present at the event. The Hidden Good is a cause that aims to celebrate a positive culture among Singapore and also produces the MP3 Experiment Singapore.
"The goal of the MP3 Experiment is to break down barriers between strangers and to have fun! I hope that's what the students took away from today's event," she said.
The original MP3 Experiment originated from New York City, where the very first experiment took place at the Upright Citizen Brigade Theater. It was organised by Improv Everywhere, a prank collective based in New York whose mission is to provide a fun source of entertainment for all participants.
Chan Sheena, the overall in-charge of Project Share-A-Smile, said: "I hope this experiment would serve as a platform for participants to have fun and bring out the best in themselves."