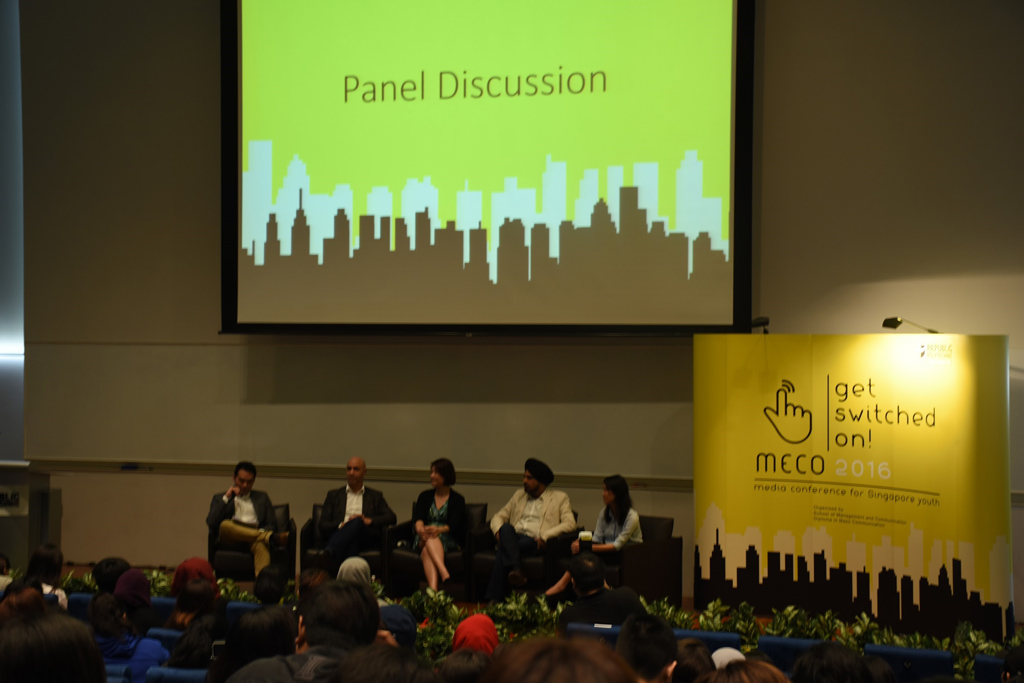 Can you imagine a world without social media? With seven of 10 Singaporeans on social media daily, how do you ensure users are media literate? Will future media professionals be able to adapt to the demands of the industry in the 21st Century?
These were among the issues raised by some speakers and delegates at the first Media Conference for Singapore Youth (MECO) on Sep 8, 2016 held at Republic Polytechnic (RP).
Organised by RP's School of Management and Communication, the conference was aimed at helping aspiring communication practitioners learn more about the media industry beyond the classroom.
Some speakers shared stories of artistes who adapted themselves in the wake of changes brought about by media convergence.
An example would be FLY Entertainment chief Irene Ang, said Ms Angeline Poh, the assistant chief executive of Media Development Authority. While Ms Ang appeared previously on terrestrial television programmes, Ms Poh told the conference that Ms Ang witnessed changes in media consumption habits. To remain relevant to the audience, Ms Ang moved to produce her own show on Clicknetwork TV, a local YouTube channel.
Urging the delegates of the conference – who were mostly students aspiring to be future media practitioners – to adapt to changes in the new media environment, MediaCorp chief digital officer Shane Mitchell said: "Skills are transient. You have to pick up new skills along the way. Know your customer, understand how they communicate and operate, remain relevant."
The prevalent use of social media has also affected how traditional media companies operate. Radio station 987FM's Ms Amelia Lee, who spearheads marketing campaigns, told the conference that the media outlet would use different social media accounts and events to attract new audiences to tune into their radio shows. This shows how new and traditional media can complement each other, she added.
So how should aspiring media practitioners differentiate themselves from others? Ms Ang Sin Sing, a senior lecturer at Republic Polytechnic's School of Management and Communication, said paper qualifications are just a starting point. "I would rather choose someone who has more experience and better skills set compare to a student who has nothing but a diploma to work for me," she said.

Editor's Note: The story was the winning entry submitted by a participant at the Media Conference for Singapore Youth.