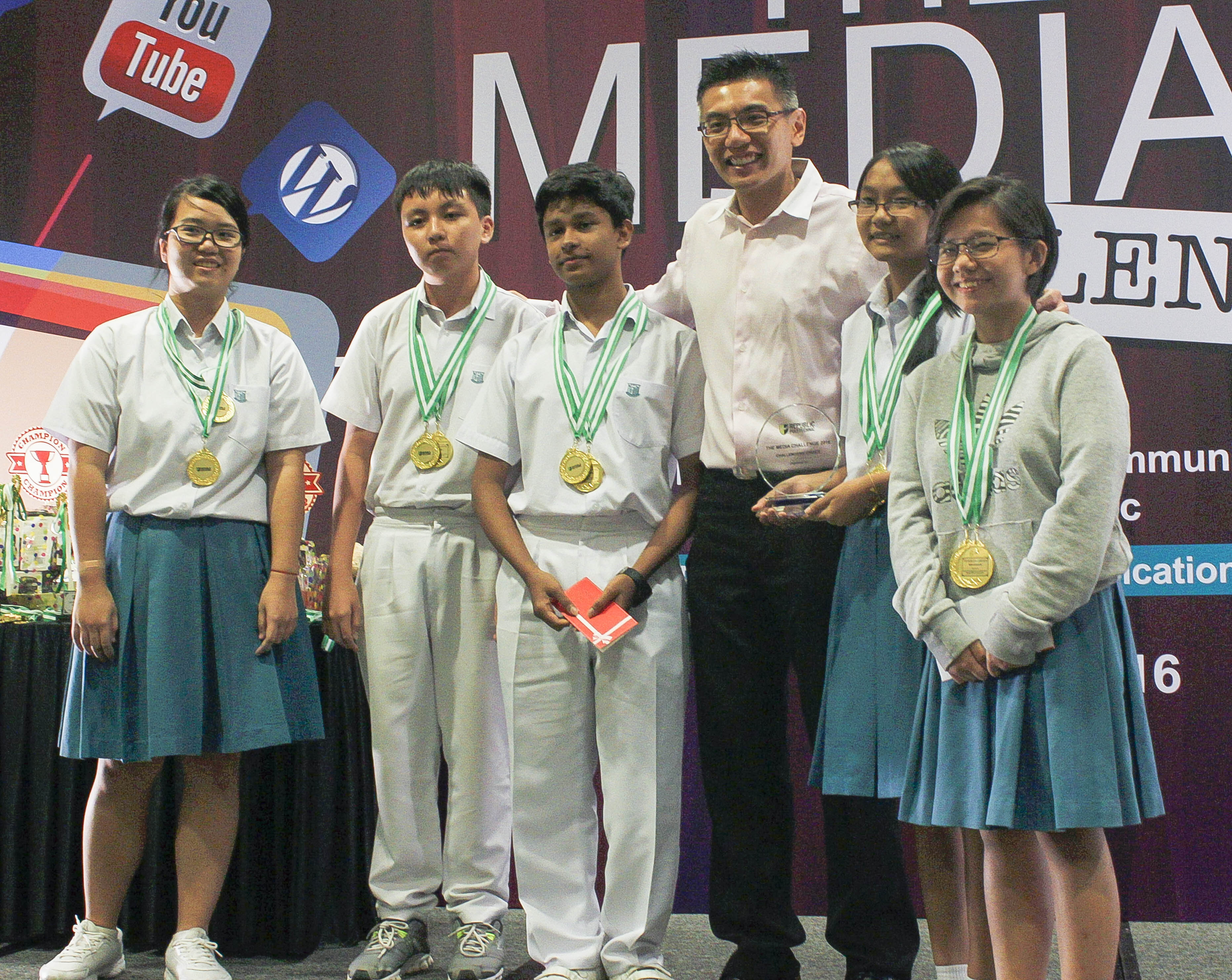 When they heard the announcement of their school name, some of the Swiss Cottage Secondary School students who participated at this year's Media Challenge thought there was a mistake.
The students felt they didn't work well as a team at the annual competition organised by Republic Polytechnic's Diploma in Mass Communication.
But Swiss Cottage made its way into everyone's minds when they won half of the six prizes on offer at the Challenge. The team of five Swiss Cottage students won Overall First Runner-up, Best Campaign Idea and Challengers' Choice at the event held between March 16 and 18 at RP.
"When they called our school name, at first, I thought it was a mistake because I didn't think we did that well," said Swiss Cottage's team leader Tang Jing Wen. "But after seeing the different prizes we won, I think all of us have a lot of potential in this area that we still need to work on."
For this year's competition, 32 teams from 21 secondary schools were tasked to design a campaign to encourage youths to lessen their screen time and interact meaningfully with their family and friends.
The Swiss Cottage team's campaign proposal was about raising awareness amongst youth on the harms of excessive phone usage. They created a hashtag, #stopBTW – the acronym for Stop Blocking The World – and developed a social experiment where youths used their phones while wearing a blindfold.
"We decided to do the campaign based on excessive phone usage as all of us tend to do that sometimes, so to let other youths know how to solve this problem, we decided to make this our campaign idea," said Jing Wen, 14.
Despite winning half of the six prizes on offer, the Swiss Cottage team experienced a difficult start as members did not work closely together as a team.
"When I first came, I did not know what the girls were doing so I just sat there and did nothing," said Mohammed Shahriar Zaman, 14. "Because of that, they thought I was not interested in doing the work. We started working together as a team after Jing Wen told me more about their idea."
The overall champion for this year's Media Challenge was a team of four 15-year- olds from Nanyang Girls' High School. They signed up for the competition as it was similar to their school Co-Curricular Activity, the Audio Visual Club.
"When we came for this competition we told ourselves that we will try to give it our best and have fun," said Nanyang Girls student Tam Ye Ting. "I think the reason why we won was because of our presentation as we were confident and knew what we were talking about."
The competition between Nanyang Girls and Swiss Cottage was close as both of their campaigns were relevant to the theme. However, the judges felt Nanyang's campaign appealed more to the youth.
Judge Nicholas Gabriel Lim, a member of the Media Literacy Council, said: "Both the schools were coherent and consistent with the themes and thus it was difficult to choose the winners. We decided on Nanyang Girls' High School in the end as their campaign was more suitable for the target audience."