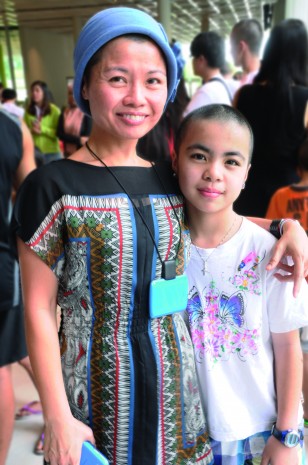 Each year, people lose their locks to raise money and awareness for cancer victims. RP was host to Hair for Hope in July, where staff and students came by to lose hair for hope. 
More than 150 brave students and staff turned up to support RP's Hair for Hope event which took place on July 16. This is the fifth year that RP is hosting the event which was organised by RP and the Children's Cancer Foundation (CCF). Hair for Hope is a fund raising event to create awareness for children suffering from cancer. RP has been a satellite centre for Hair for Hope since 2009.
While most of the volunteers were men, the event also saw female volunteers, who came forward to support CCF. Ms Cecilia Ow, 43, a facilitator was one of them. She came together with her family for the ceremonial shave.
She made the choice to shave her head last December. "I wanted to try something different," she said. "I believe that by shaving my hair, I can be a role model to my students and teach them that there are far more important things than physical appearance."
Another individual who decided to go bald was Sherney, 21, a Diploma in Biotechnology student. She had a harder time making the decision as she had to ask her parents for permission. "At first, my parents were not really supportive of the idea of getting my head shaved but after a while, they started to see from my point of view and allowed me to go through with it," said Sherney.
For many, the easy thing to do would be to give money to CCF. "While donations are a good platform to show your support, I believe what these children need is more understanding and moral support from the public," said the third year student. "By shaving my hair, I feel that I am doing something that money cannot buy and I feel proud about it."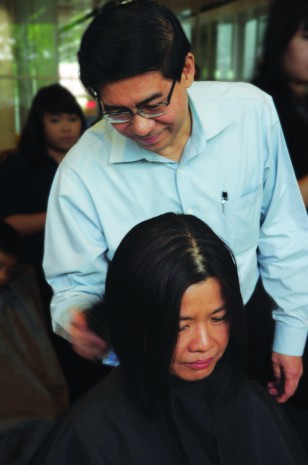 RP's Hair for Hope representative, Lim Ding Kun, 20, was happy with the response. "I am very pleased with the number of participants who turned up for the event and I hope that more people are now aware about childhood cancer and what they can do to help these kids," he said.
For those who had missed this opportunity, there is always next year. But it doesn't hurt to do your bit for charity now.