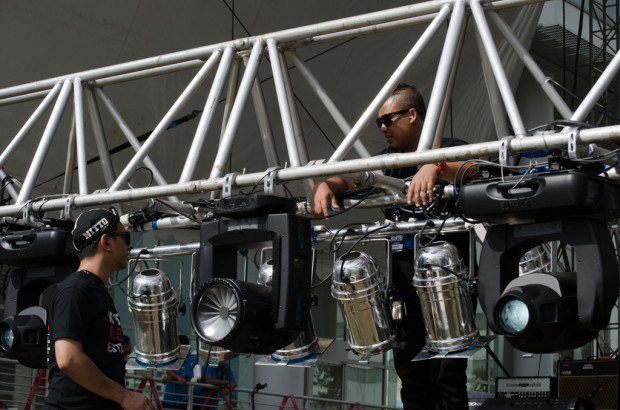 More than 14,000 music lovers, 600 student helpers, 12 months of preparation, countless long nights and two days of sheer energy. Broken down in numbers, Republic Polytechnic's signature music festival is nothing short of extraordinary. Held over two days in August, it is a die-die, must go on event on every music-crazy student's calendar.
And boy, did it deliver. The moment the bands came on, the crowds surged forward. As the riffs soared and the sun disappeared into the night, colourful bright lights came on, teens began crowd-surfing and head-banging. All in the name of good fun of course.
But none of this happened by accident. The work to put together the festival began as soon as the last one ended. And multiple groups of students are assigned to do a wide array of things: stage and sound crew, catering, publicity, media, video crew, crowd control.
Amerah Abdullah, 19, a second-year Diploma in Mass Communication student, was part of the video team.  "We had band interviews during the fasting month, where we schedule bands for interviews, about three a day, and it kind of takes up the whole day, so it was pretty tiring," said Amerah.
The festival this year was almost entirely run by students… Organizing events like this can be very rewarding and meaningful and the satisfaction one gets from pulling off a festival of this scale is a point of pride that no one can take away from them. If anyone thinks youth are just self-absorbed and lack social or community spirit, I invite them to see the amazing students of IGNITE! in action. They bring true meaning to the phrase "passion and compassion".
– Mr Ganesh Kalyanam, Director, Office of Student and Graduate Affairs, and The Republic Cultural Centre (TRCC)
Syed Ali, 19, and Danial Iqbal, 18, who are both part of RP's Jammerz Arena IG (interest group), volunteered to be part of the technical crew because they have dreams of their own; to one day be able to perform at IGNITE!. The boys described what their duty as stage technicians entailed and talked about some of the challenges they faced.
"Every night, for almost two weeks straight, we reached home after midnight, even on school days, and we committed more hours to this than school, honestly,'' Syed said.
Danial also shed some light on how being a technician is more than just knowing the right buttons to push.
"You have to remember all the different artistes, what instruments they use and what the different settings are for each artist," he said. "You have to know the sound levels for each mic and change them accordingly as the acts move forward."
Getting home past midnight on school days and juggling school work with IGNITE! rehearsals was no easy feat for the boys, but they wouldn't have had it any other way.
"Did you see the crowd? We don't learn just as technicians, we learn how to be better people, how to approach people better, and we learn a lot about punctuality and moral values," said Syed with a smile on his face.