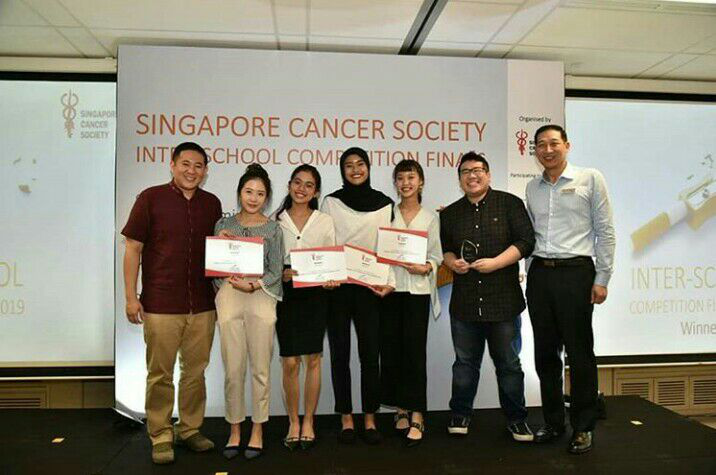 A team of RP students emerged champions in the Singapore Cancer Society Inter-School Competition after they impressed the judges with an idea to encourage young people to quit smoking.
The RP team edged out four other teams from ITE College West, Nanyang Academy of Fine Arts, Nanyang Polytechnic and Ngee Ann Polytechnic to win the competition held on Jan 26, 2019.
The Diploma in Mass Communication students – Amelia Nor Mohamed, Lee Xue Qi Hayley, Nadiya Nabilah Muhammad, and Sibi Vlade Joyce Duran – said the campaign was based on the regret many smokers have after they picked up the habit. Thus, the RP students created a campaign based on the tagline, 'No Cigarettes, No Regrets', to target those who may be tempted to smoke. The students proposed that the tagline will be used as a hashtag as part of the campaign's social media initiatives.
Nadiya said: "This campaign is important to us because a lot of our friends are tempted by smoking so that's why it's quite important to raise awareness about this."
Amelia Nor added: "One of the main messages of our campaign to the youths out there is that their friends hold the biggest influence on the decisions that they make in their lives."
Lung cancer remains one of the top three cancers in Singapore affecting both men and women. The top risk factor for lung cancer is the use of tobacco products such as smoking cigarettes.
Nadiya said the team didn't want their campaign "to be cliché" and faced difficulties trying to find a unique idea. "Also, the planning period was during exams period and we couldn't really meet up all the time and most of the time, we had to do it on Skype," she added.
The competition was organised by the Singapore Cancer Society to provide youths with the opportunity to be well-equipped with knowledge and awareness of what smoking of the consequences smoking can have on the environment and people around them. The Society hopes that the knowledge would empower youths to be 'Smoke-Free Ambassadors' who would have a positive influence on their peers, encouraging them to quit smoking or refuse to even pick up the first cigarette.
This was the third year that RP has taken part in the competition. Previously, RP finished second in the contest in 2018 and 2017.