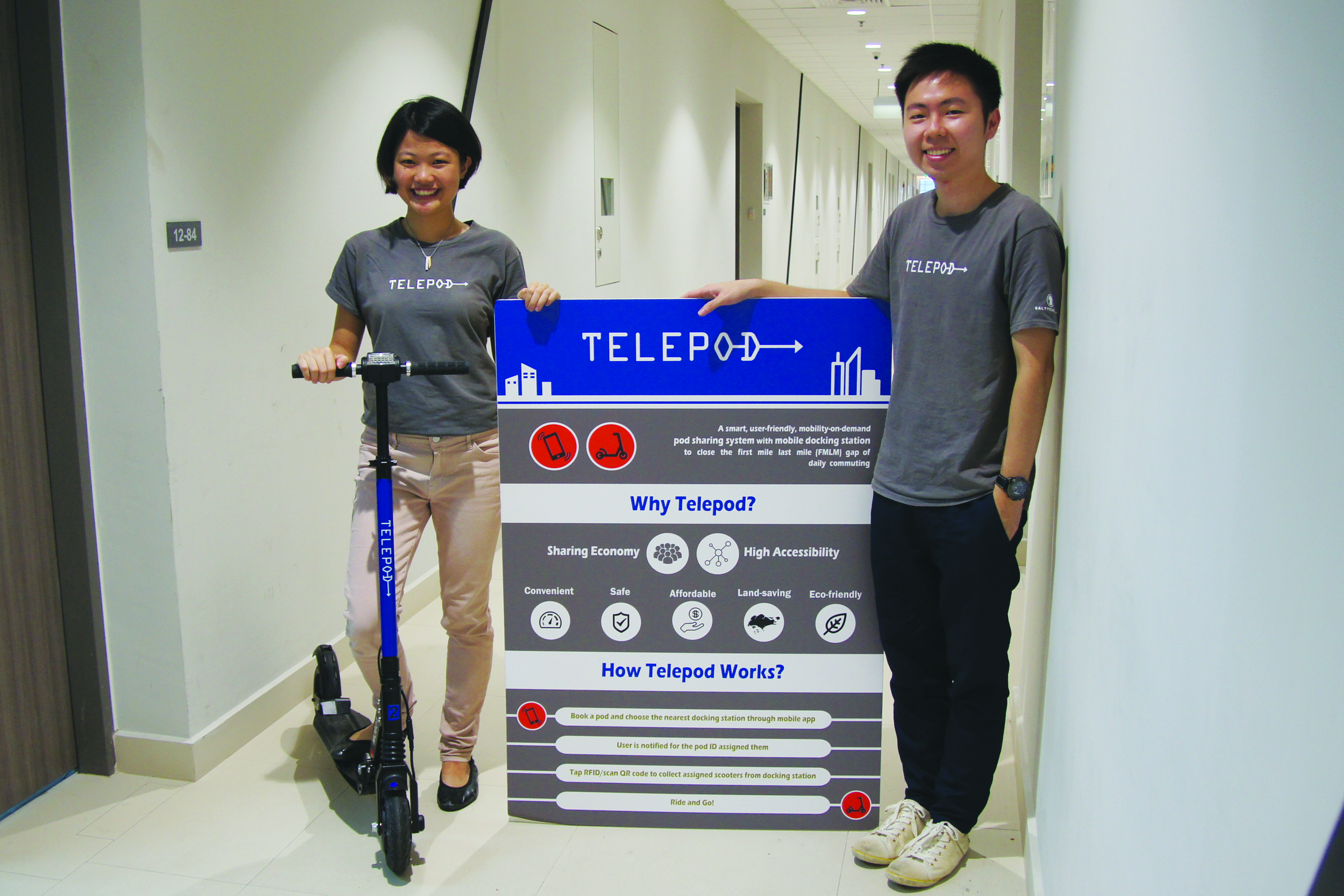 As a former student, Gan Jin Ni felt the walk between Woodlands MRT station and Republic Polytechnic (RP) was too much to bear.
Tired from a long day of work and running late for class, Ms Gan wished there was an alternative to walking or public transport.
"I've always wished there's a faster way and more convenient way to get there, especially under the hot sun," said Ms Gan, who took a Specialist Diploma in Mobile Applications.
Now, as chief executive officer of local start-up Telepod, Ms Gan intends to improve the connectivity between Woodlands MRT station and RP.
The start-up is looking to launch short-term rentals of e-scooters, following a successful trial at RP.  During the two-day trial in August, last year, the company's scooters were rented over 200 times. Each rental cost $2 for 10 minutes.
Telepod is drafting a proposal to submit to RP to bring back the scheme. The start-up is also looking into a subscription model where students can use a concession card to pay for rental.
Telepod is aiming to launch the service in the second half of this year, even though Ms Gan acknowledged the approval may involve "a long process".
The service allows users to retrieve folded-up e-scooters from docking stations by scanning a QR code using a mobile application.  Besides RP, the service has also been offered for use at the Punggol Waterway area.
Telepod, which was founded by five friends who met while studying at Nanyang Technological University, was among 21 finalists in an engineering competition organised by the Land Transport Authority. The start-up conceptualised the mobile application and the docking stations.
Mr Louis Goh, the chief operating officer of Telepod, said: "We don't have much resources to start off at the beginning so we have to make use of whatever we have and then also getting help from some of the e-scooter suppliers."
Growing up in Malaysia, where connectivity between transport nodes was an issue, Ms Gan said she always had a passion in transport.
"I had always envied my cousins who live in Singapore with the freedom to go where they want to go anytime," said the 26-year-old. "Hence, I was determined that I want to solve transportation issues since then."
Year 3 student Zainulrahman Bin Motalif, from the Diploma in Customer Experience Management with Business, is willing to try out the rental service despite owning an e-scooter.
He said: "I think I would try it out first. It can benefit students as they don't need to worry about where they would want to park the scooters since it can be dropped off at the docking stations."