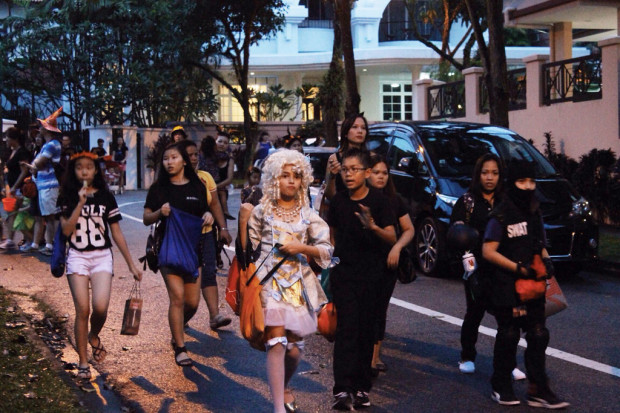 Think of Woodlands and most Singaporeans would come up with two things: going to JB or "very far". But this northern town has fast become THE place to watch the American Halloween tradition of going "trick or treating".
Jennifer Samuels, 40, an Information Technician dressed up as Batman's side-kick, Batgirl, says she wouldn't miss it.  "I grew up in the U.S, so trick or treating here with my children relives my childhood memories and this is the only place closest to home."
As major Halloween events in Singapore like Sentosa Spooktacular and Halloween Horror Nights at Singapore Universal Studios go out of the way to scare people, Woodlands Woodgrove remains one of the popular hotspots come  October 31st. Located near Woodlands Ave 1, it transforms into a creepy fairyland on this day.
The trail starts at Woodgrove Avenue, where you can make your way through the crowds along the street of the 'creep-tastic' neighbourhood from 6 p.m. and "till the candy runs out" according to locals. The roads in the neighbourhood were blocked by private security to ensure it would be a safe pedestrian zone for crowds to haul for candies not only from door to door.
From gravestones, demons, ghouls at the front porches and to billowing ghosts hanging on the trees, these decorations sent shivers down the spine of many as they walked down the street. 19-year-old Era Marsita Ramle who was there with her friends, said: "It is just like how I've seen in the movies!"
The crowd and their array of costumes make this a must see too: toddlers dressed as Minions, old folks as vampires, expats and locals who were princesses and villians, all clearly put in a great deal of effort. Even pets got in on the action, little dogs were dressed as hot dog buns, carrots and ghosts.
Most people we spoke to said they like how it feels so welcoming. "I like how everybody is mixing around- you can just talk to anyone here.  If we went to Sentosa's haunted house, you just get from one jump scare to another and that's about it,'' said Joyce Chan, 17, a first-year student from Ngee Ann Polytechnic.
Another visitor was Mohd Fared Makmon, 34, who came all the way from the West with his family, after he heard about it.  "Here, you do not even need to pay to get yourself immersed in the Halloween spirit. Admission is free and in return, you get to experience a traditional Halloween at Woodgrove Drive," he said.