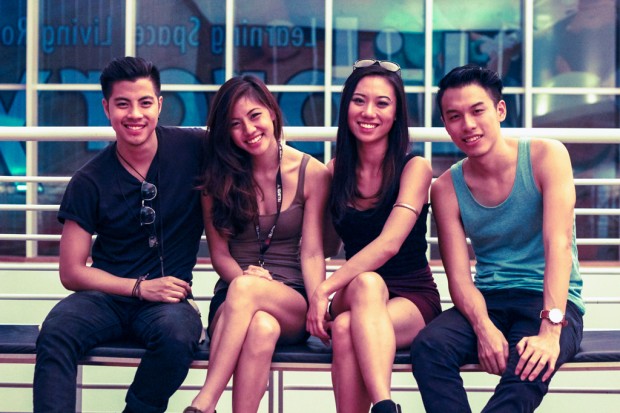 Three years ago, a group of musicians including Republic Polytechnic (RP) alumnus Benjamin Kheng started posting YouTube videos of their songs, just like any other wannabe star. Now, this foursome known as The Sam Willows has become one of the hottest local bands in Singapore, with their latest major gig taking place at the F1 race last September.
The group also played an energetic set at IGNITE, RP's annual music showcase, on August 23 and 24. And if things go according to plan, the band hopes to take the music world outside Singapore by storm. "We eventually want our music to hit bigger than Singapore and we want to reach as many audiences as we can," said Narelle Kheng, Benjamin's sister, who plays the bass guitar for the band and is also one of the key singers.
The Sam Willows was formed in December 2011. Their first few videos on YouTube includes an original mashup cover of the songs Hey Soul Sister and We Are Young by artists Train and Fun.
It caught the attention of local arranger Bang Wenfu, who then co-produced the quartet's EP. Later, Singapore singer-songwriter Kevin Matthews from the Power of Pop arranged their first gig at The Esplanade Library. It was a collective concert with several other musicians including homegrown band Tricks & Cider and singer-songwriter Vanessa Faith. The event was attended by about 60 to 80 people, including friends and family of the band members. From then on, their star kept rising.
And as their reputation rose, so did the YouTube hits and physical gigs. To date, The Sam Willows has over 610,000 YouTube views and 9,200 subscribers. In 2013 they played at South By Southwest (SXSW), one of the world's biggest music festivals, in Austin, Texas, and the Canadian Music Festival in Toronto which also featured the likes of Paramore, Pentatonix, Prince and Kendrick Lamar.
Their biggest break came shortly after the Canadian festival – Steve Lillywhite, a five-time Grammy-winning English producer who has worked with well-known artists such as U2, The Killers and The Rolling Stones, stepped in to re-record their original song Glasshouse.
"When Steve Lillywhite came in, he brought another level of energy to the song and gave the song a morphine jab and brought life to it by giving the song a whole new twist," said Benjamin.
Before riding the highs of music success, Benjamin, an Arts and Theatre Management graduate from RP's School of Technology for the Arts, was pursuing a career as a radio DJ on Lush 99.5FM as a producer/presenter, while Narelle was a student at Nanyang Technological University (NTU), majoring in Communication Studies. Guitarist Jonathan Chua was a student majoring in Sociology and a guitar teacher, while Sandra Riley Tang was an assistant business manager at a local production house.
Jonathan was especially optimistic when asked whether music was a viable way to earn a living in Singapore. He said: "There are really a lot of people doing it and it's a matter of how society accepts music as a job, and musicians can definitely survive, it's just a matter of how much effort one is going to put in."
When asked about their future plans, band manager Audrey Lim said that 2014 is going to be an exciting year for the band, as they are currently in the midst of pre-production for their new album, which includes a lot of new songs. Something that their fans can definitely look forward to.
Check out the band on their YouTube channel http://www.youtube.com/user/thesamwillows