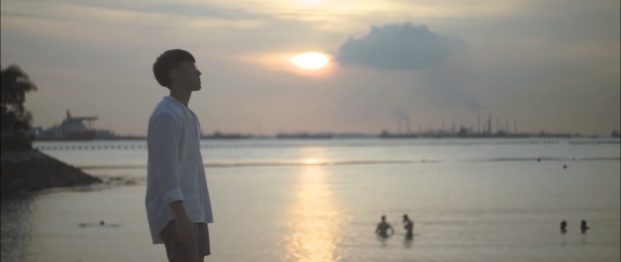 Learn to love yourself first before you love others. This was the message that Cyrus Oh, a second-year student from the Diploma in Media Production and Design (DMPD), hopes viewers of a YouTube video he helped to create will take away after watching the four-minute long clip.
The video A Letter To Myself has garnered over 5,000 views and 200 'likes' on YouTube since it was released on Jan 20.
The video took about three weeks to be produced. The idea came when Cyrus and his friend, Gareth Chew, chanced upon a post of someone's journal entry on Instagram which was a letter to themselves.
"The post touched us and we wanted to make a film out of it," Cyrus said. "So we adapted that journal entry based on my past experiences and recent relationship and made our own version which became a letter to myself."
The production of the video was done in one week in December. "We were at first having troubles looking for suitable actors but luckily we managed to find two of our friends who were willing to help," said Cyrus, who directed the video.
The video is about a boy going through a tough time and the protagonist decides to write a letter to his future self. The video is accompanied by a 700-word text of the 'letter' that the boy had written to himself.
DMPD student Jermaine Goh Zhi Ning said the video was simple but impactful. "I think the message behind it is meaningful," the 19-year-old said.
Othniel Cheah Yee from the Diploma in Marine Science and Aquaculture added: "This video actually taught me one important thing, which is to never have expectations of someone as you risk having a disappointing outcome."
Cyrus said he wanted youths to accept their friends for who they are. "Learn to accept their flaws and know that they aren't perfect. Nobody is perfect. They might make mistakes, but you got to learn to forgive them. And accept them for who they are," he said.