Volunteering in the community should not be done only once a year. Instead, volunteers who help out regularly may find more meaning through their outreach.
Minister of Education (Higher Education and Skills) Ong Ye Kung made this point after he joined 50 RP students and facilitators on January 28, 2018 to distribute goody bags to less privilege residents in Singapore's North West district.
The bag contained items such as cereal, coffee, instant noodles, nuts, drinks and a $20 NTUC Fairprice voucher donated by Keppel Land. Thirty volunteers from Keppel Land also helped in the distribution during WeCare@North West CDC Service Week.
"This is not the first time that I'm seeing poly students coming up to volunteer. It is encouraging that the younger generations today feel for the community, so I encourage more of you to do the same," said Mr Ong.
He added: "But it's important to know that such volunteerism is not a once a year effort. To help out in a community, we may have to devote a bit of our time every week, every two weeks, and that is when you make volunteering work a lot more meaningful. So, if any of your friends will like to volunteer on a more sustained basis, I'll be most happy to help."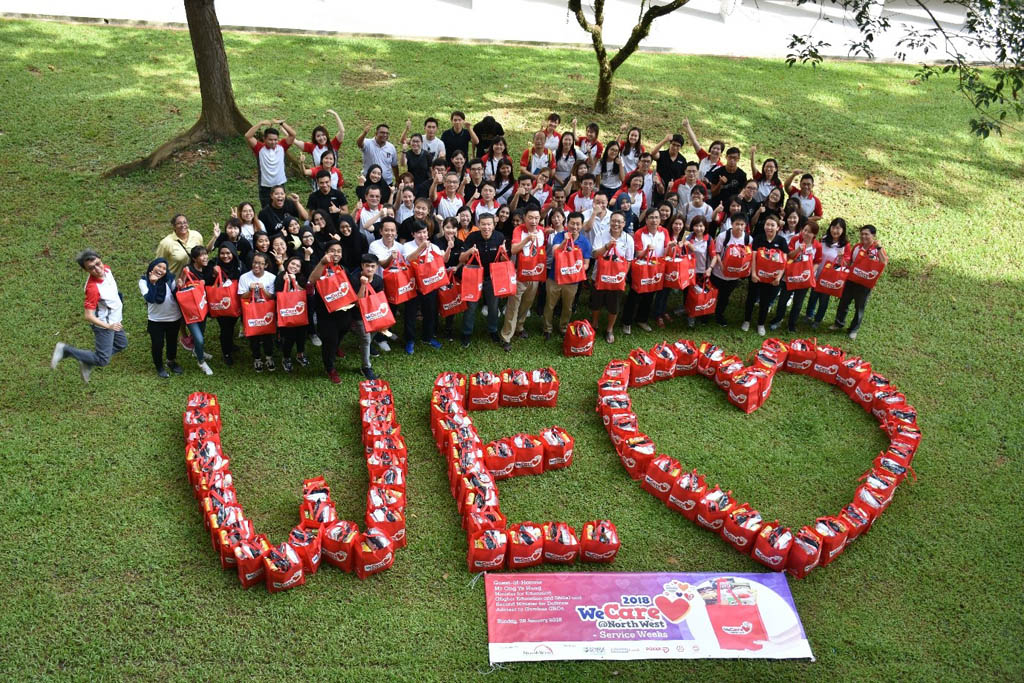 According to National Volunteer and Philanthropy Centre (NVPC), the volunteerism rate here has grown over the years. In 2016, one in two volunteers has served informally without going through any organisation, as compared to one in four volunteers in 2014. The volunteerism rate of youths aged between 15 to 24 years old has also increased to 41 percent in 2016 from 25 percent in 2014.
The RP students who volunteered during the WeCare@North West CDC Service Week said the experience has benefitted them.
Samuel Chan, second-year Social Enterprise Management (DSEM) student, visited a family with six children. "It helps me to empathise what they are going through as well as developing a caring heart towards the community," he said.
Fellow DSEM student Azlin Zubairah added: "It's very meaningful to do things like this and I hope to see more of youths doing things like that, giving back to society, because there's this stigma whereby youths don't really care about our community. So, I hope that we can overcome that and there's actually youths who really care about the people around us."
For a start, Mr Ong suggested that youths could befriend the elderly living in their community. "For example, here we have many old folks who are living alone, so we have formed a database. So, we need more young people to be companions, to befriend them – call them once a week, visit them once every two weeks, and it will really make a big difference to them," he added.