A new mobile app providing information and background on RP's landmarks has been launched. Muhammad Nurshazreen bin Noorazam with the details.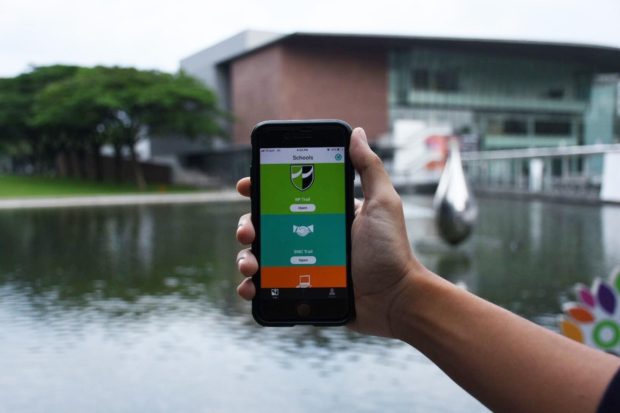 The Agora at RP may be the hub of student activities but the idea of an open place of assembly originated in ancient Greece.
The tear-drop structure at the Reflection Pond is known as Sophia's Tear while the Lawn was built with the terrain in mind to allow better accessibility as one move from one building to another.
These are some of the nuggets of information that a user can obtain from a mobile app which was launched in April this year.
The app, RP Stories, features other landmarks like The Republic Cultural Centre and Library. The app also features hotspots within the School of Infocomm and School of Management and Communication. Diplomas from both schools worked together for the first time to design and develop the content for the interactive location-based app.
Users can read content, watch a video or take a quiz on the app at the various locations they visited.  The app was used by students during the Freshmen Orientation Programme in April and those who tried it gave their thumbs-up.
Nur Shahirah, a first-year Diploma in Mass Communication (DMC) student, said: "It really helped me to familiarise with the school compound."
Darcel Al Anthony, 17, felt the app was "very interesting and engaging". "I got to learn fun facts about SMC," the DMC student said.
The app taps on Augmented Reality, an interactive technology which integrates computer-generated information like graphics, sound and Global Positioning System into the user's environment. The same technology was used in 2016's hit mobile app Pokémon GO.
The idea to produce the RP Stories mobile app was mooted in August 2016 and a total of 25 students worked on the project.
Ms Tan Hwee Yong, who led the Diploma in Interactive and Digital Media students, hopes that more users would use the app. "I would love to have all in RP to know more about this app and use it. Of course, the content would have to be built up for everybody if they want to use it," she said.
The app was among the finalists in the Best Innovative Infocomm Student Project category at this year's Singapore infocomm Technology Federation Awards.
Ms Valerie Ng, who led the DMC students on the project, felt the app could be the start of further collaboration between different schools.
She said: "This being the first multi-disciplinary collaboration between two schools, I hope it will encourage different schools and disciplines to work together since we all have our own specialisations and we can learn more from each other."