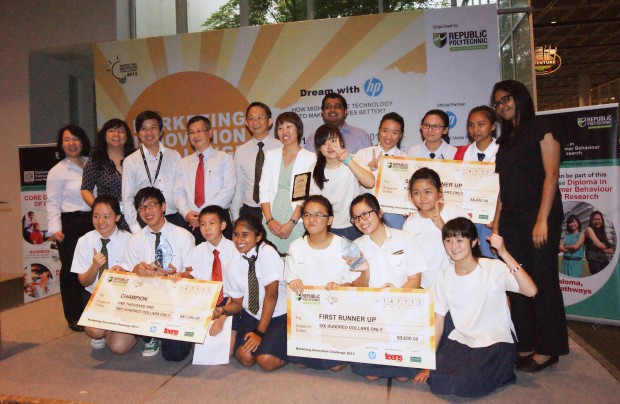 Henderson Secondary School's idea of a high-tech flexible screen that serves as a phone and a tablet for senior citizens won them the top prize at this year's Marketing Innovation Challenge.
The three-week competition, organized by the Centre for Enterprise and Communication and supported by Hewlett-Packard and Teens Magazine, was aimed at conducting market research and creating innovative solutions with regards to common household issues.
A total of 17 teams from 12 secondary schools took part, with five finalists being selected after rigorous rounds of challenges. On Nov 14, the finalists presented their ideas, which included a 'smart' refrigerator that alerts you when your food items are about to expire and a device that allows movies and videos to be projected from mobile phones.
Henderson's Jewel Amanda George, 14, Ee Boon Siong Dylan, 14, Dennis Kirong, 15, and Ding Zhaoen, 16, saw a need for a product aimed at the elderly, considering Singapore's increasingly aging population.
"The product is designed to encourage the elderly to do more physical activities and to help improve their memory," said Dennis. He also explained that the product features a creative point system which encourages the elderly to engage in more activities, which include exercising and playing online games. Points would then be accumulated after completing each activity and would ultimately allow them to redeem prizes like vouchers from grocery stores.
"I was pleasantly surprised at the works produced by the students, they definitely exceeded my expectations," said Mr Andy Wong, Category Director from Hewlett-Packard, who was one of the judges for the competition. "They were able to identify key issues in the society and successfully come up with all-rounded solutions that can help solve these problems."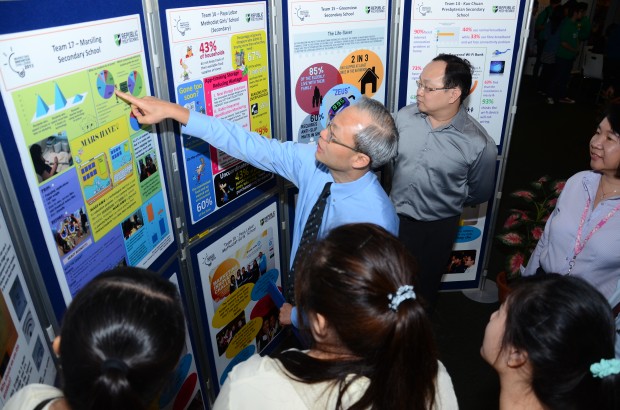 Fifteen-year-old San Zin Zin Toe from Yuhua Secondary School was satisfied because although her team did not manage to make it to the finals, they walked away with something equally significant. She said: "This was a very valuable experience that taught me marketing and business skills. I don't regret joining at all."