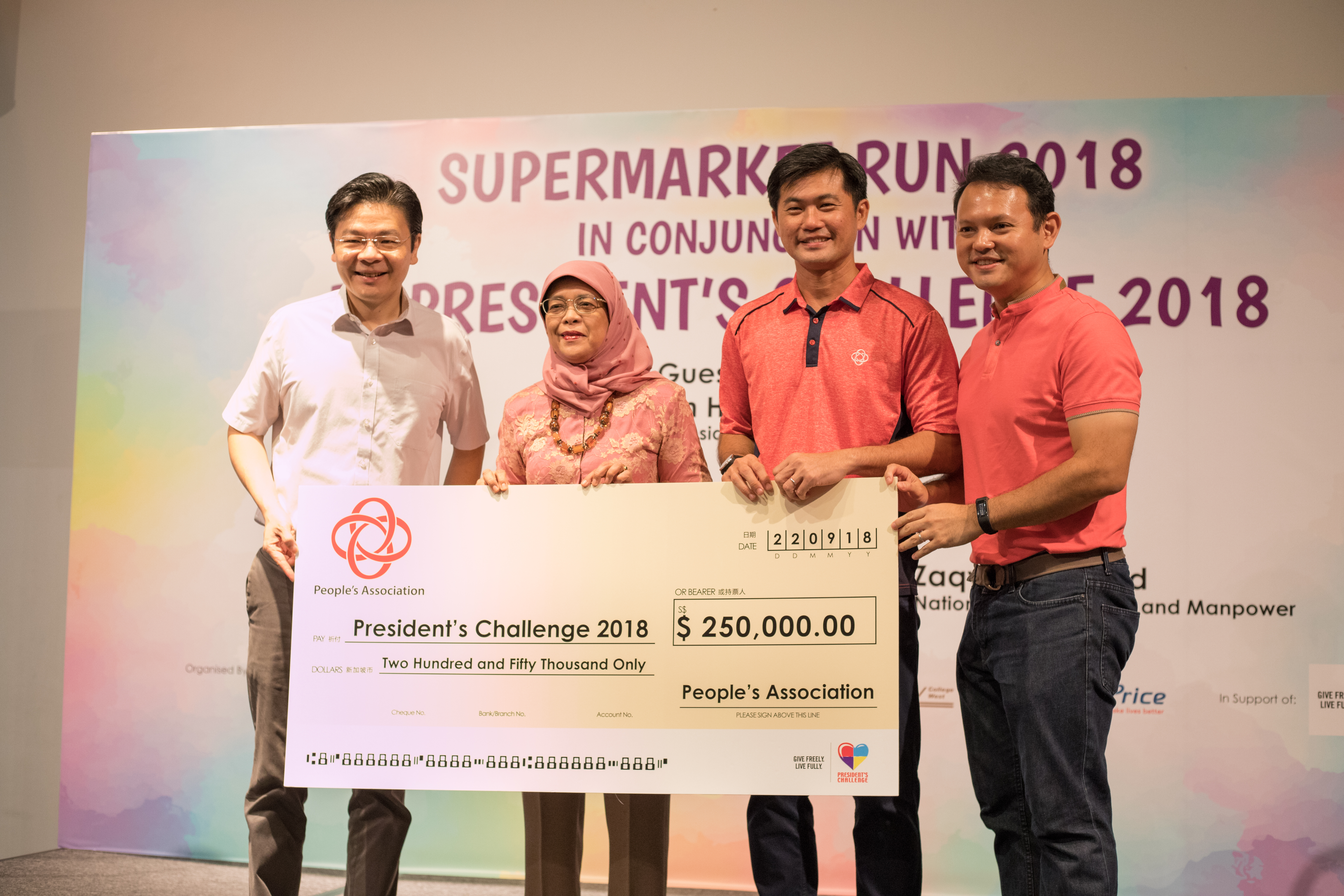 Volunteering in the community should not be seen as a "one-way ticket" where the beneficiaries are the only ones reaping the benefits. Instead, volunteerism can also benefit student volunteers as they combine the knowledge they gained in the classroom with community engagement.
President Halimah Yacob made these points at a President's Challenge event held on Sept 22, 2018 at Republic Polytechnic. Together with Marsiling's People's Association Youth Movement, students from RP's School of Management and Communication played host to some 150 beneficiaries and they played games, shared meals and shopped at a NTUC Fairprice pop-up supermarket store. The event had two objectives: Promote inter-generational bonding and encourage the elderly to make healthier food purchasing choices.
Speaking to The Republican Post, President Halimah said: "We tend to look at volunteerism as a one-way ticket that people who volunteer are benefitting the beneficiaries. I think it's really wrong. It's true, by helping, you're benefiting the beneficiaries in our society but you're also benefiting yourself. Tremendous amount of research shows that when students are actively involved and engaged with the community, they become better people. They can develop their skills, their competencies, this is what we want because you can't learn everything in the classroom."
President Halimah called on youths to come forward and help the community in "a very sustainable manner".
"We want the students to have a stake in society and it's not just a question of them getting a good education and acquiring material needs, you know, so the students are involved so they understand the issues, they are able to connect the dots and they are able to see how they can play a role as well in society," she said. "We cannot create an inclusive, compassionate, gracious society without everyone playing a part."
At the event, President Halimah received a $250,000 cheque from People's Association Chief Executive Director Desmond Tan as part of President's Challenge 2018. Initiated by the late president S R Nathan in 2000, the President's Challenge represents the coming together of people from all walks of life to help the less fortunate. Earlier this year, President Halimah announced a new fund under the President's Challenge to support vulnerable groups through skills upgrading, capacity-building and employment.
Iffah Haziqah, a first-year Business and Social Enterprise student, said the volunteer experience provided more insights into the lives of the elderly beneficiaries. "It was very fun," said the 19-year-old. "I didn't expect to be like paired up with a lot of the seniors and help them. I think to talk to them and to know what they need and what they need to buy is very good. They should definitely hold more of these events."
Mdm Fathimah Atheer, 75, also hopes the event – which encouraged the elderly to make healthier food purchasing choices – will be back next year. "I feel very happy because I buy many, many things and I eat well also," she said. "Next year, if they call me back for this event I sure will come back."