RP welcomed YouTube stars in an exclusive workshop that saw many ardent fans in the audience.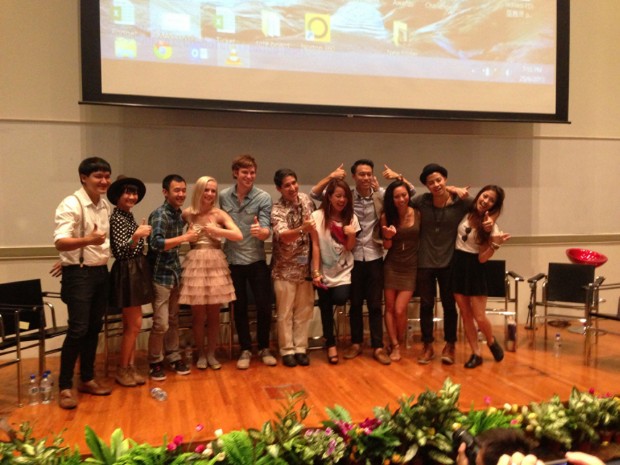 The event was slated to begin at 5.45pm but by 3.30pm a queue had formed outside E5 lecture theatre. Most students were excited to catch their favourite YouTube stars in the flesh. The group of stars that set hearts aflutter: Tanner Patrick, Madilyn Bailey, Nate Tao, Zendee, The 38 Years Ago and Singapore's very own, The Sam Willows.
They were in Singapore to perform at Resorts World Sentosa on 28th June 2013 and made a stop at RP on the 25th of June. Faeezah Bte Adam, a year one student from the Diploma in Mass Communication (DMC) is a huge fan of Tanner Patrick because of his "amazing vocals and good looks".
Her classmate Nadia Tan, also a DMC student, was there for petite blonde, Madilyn Bailey, whose most popular cover, Titanium, garnered 20 million views on YouTube. "I love listening to her sing and she really inspires me with her music," said Nadia.
After the stars arrived and the cheering subsided, the audience got to know more about the individual journeys of these stars. Zendee, who hails from the Philippines, recounted how tough it was for her to pursue her passion in music. "I was rejected so many times at national talent shows," she said.
Eventually, Zendee was discovered by American talkshow host Ellen DeGeneres who saw a video of her singing in a mall on YouTube. DeGeneres invited her to come on her show where she got her big break.
Local act The Sam Willows told students how they were formed in the living room of one of the members. The group, made up of siblings Ben and Narelle Kheng, and friends Sandra Riley Tang and Jon Chua, said it was a unanimous idea to get together and start producing covers and their own music. They performed an original song, Glasshouse for the audience.
The audience were then left to ponder on advice given by the stars. Tanner urged everyone to be original and put their own spin on things, Zendee spoke of believing in talent, The Sam Willows reminded everyone that hard work was part of the deal ("no excuses!") and the most practical advice came from Bailey who said: "Remember to tune your guitar."