Looking for a unique costume but don't want to bust your budget? With Halloween round the corner, The Republican Post's Christine Yeo Khalid suggests three uniquely Singaporean costumes for those seeking to have fun while on a tight budget.
Pontianak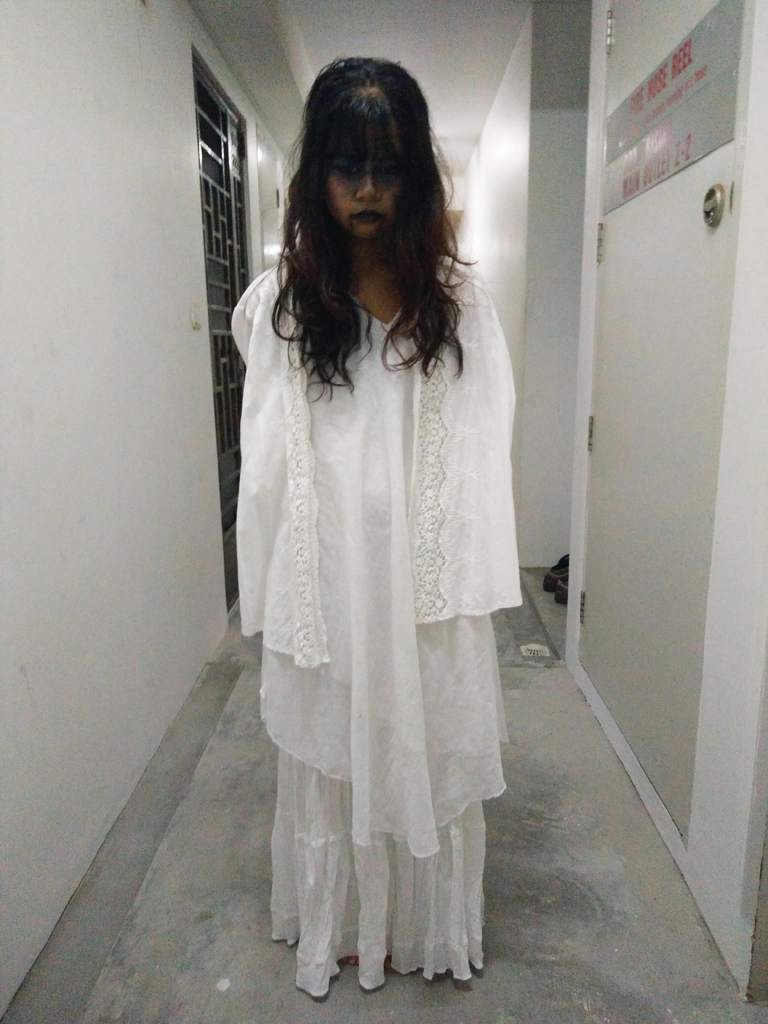 The Pontianak is a female vampiric ghost that is said to be the spirit of a woman who died while giving birth. She will announce her presence through her sweet floral scent and the cries of her unborn child – if the cry is loud, she is far; if the cry is soft, she is near. The Pontianak often resides in banana trees and is said to be attracted to hanging laundry.
What you will need:
Long white dress, $15, AliExpress
Fake blood or red liquid lipstick, $2, Daiso
Black and (optional) red eyeshadow, $2, Daiso
Get the look:
Step 1: Apply black eyeshadow on both eyelids as well as around the eyes. Blend out the edges so there are no harsh lines.
Step 2: Apply one or two drops of water around the eyes and allow the droplets to fall, creating a creepy, melancholy look.
Step 3: To emphasise the distressed ghostly look, blend red eyeshadow just around the bottom lid.
Step 4: Contour by shaping out your cheekbones and nose with the black eyeshadow. This will create a more deathly look.
Step 5: Smudge black eyeshadow on and around the edges of your lips.
Step 6: Apply streaks of lipstick on the corners of your mouth as well as any other area on the face you want to add fake blood.
Step 7: Pat some black eyeshadow over the lipstick to make it appear as dried blood.
Step 8: Put on your white dress or cloth, and your costume is complete.
Leticia Bongnino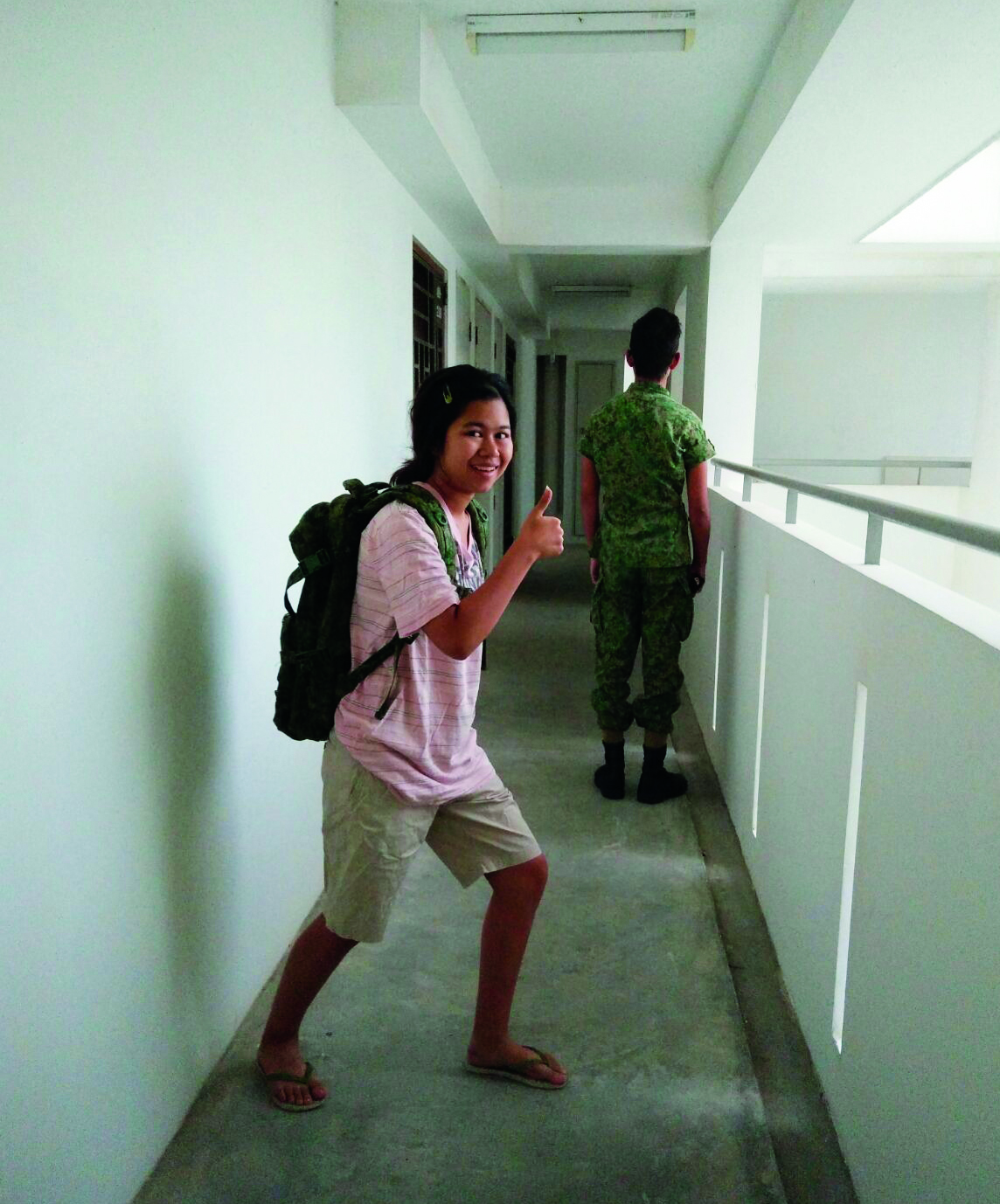 You may recognise Leticia from the Emmy-nominated Singapore comedy television series, The Noose. The show parodies socio-cultural and political issues in Singapore. Leticia Bongnino, a foreign domestic worker played by Michelle Chong, is a popular character on the show, with almost 19,000 followers on Twitter. She often greets the public with her famous opening "Good morning Sir, good morning ma'am, I am Leticia and I am a maid."
What you will need:
Any old t-shirt
Khaki Bermudas, $9, Aliexpress.com
Army field bag
Yellow hairclip, $1, any bookshop or accessory shop
Slippers, $3, Rubi
Fine Ticket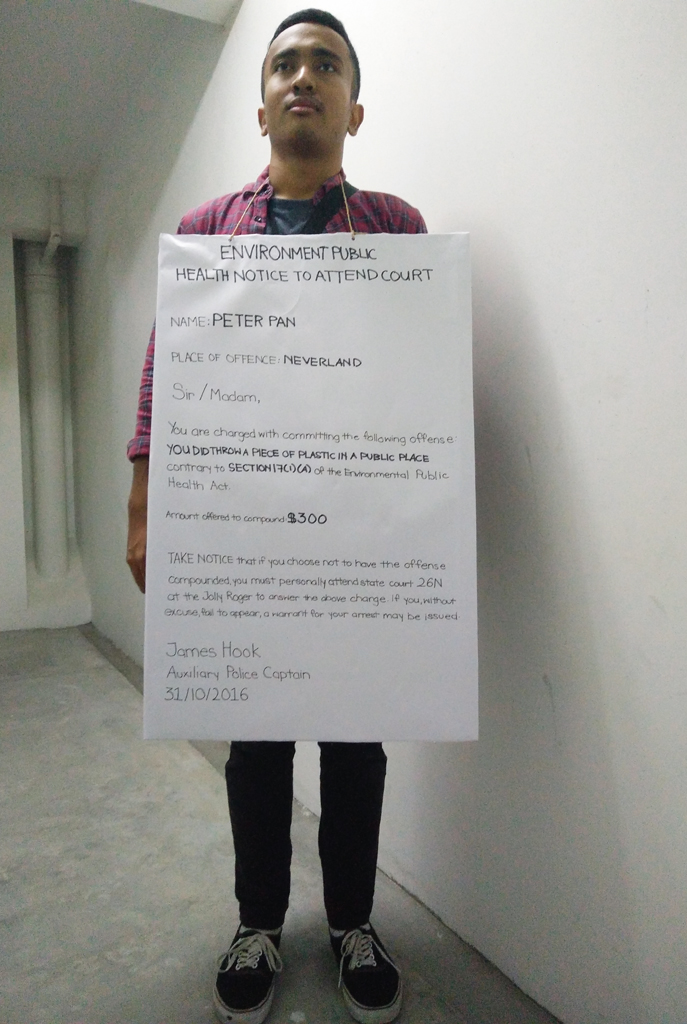 Singapore has been labelled a 'fine city' by some. Why not turn the label on its head by turning it into something comedic this Halloween? Here is an easy do-it-yourself costume where you can get everything from any craft store for under $20.
What you will need:
Large cardboard
Mahjong paper
Black marker
Glue
String
Hole puncher
Penknife
Get the Look:
Step 1: Hold up the mahjong paper to the front of your body and dot the middle of each collarbone.
Step 2: Create hole punches at the two dots.
Step 3: Glue the mahjong paper to the cardboard. Wait for it to dry for at least half an hour.
Step 4: Use the penknife to cut out tiny pieces of cardboard within the holes of the mahjong paper.
Step 5: Tie a string through either hole, gauge your desired length of the fine ticket, and tie it through the other hole.
Step 6: Write the fine. Start with a pencil first, to gauge the space you need before over lining the words with a marker. You can find examples of fines on Google images. Voila! Your fine ticket is now complete and ready for Halloween.