Caped crusader superfan A'bidah Zaid Shirbeeni gives her Dark take on the much anticipated superhero blockbuster now on the big screen.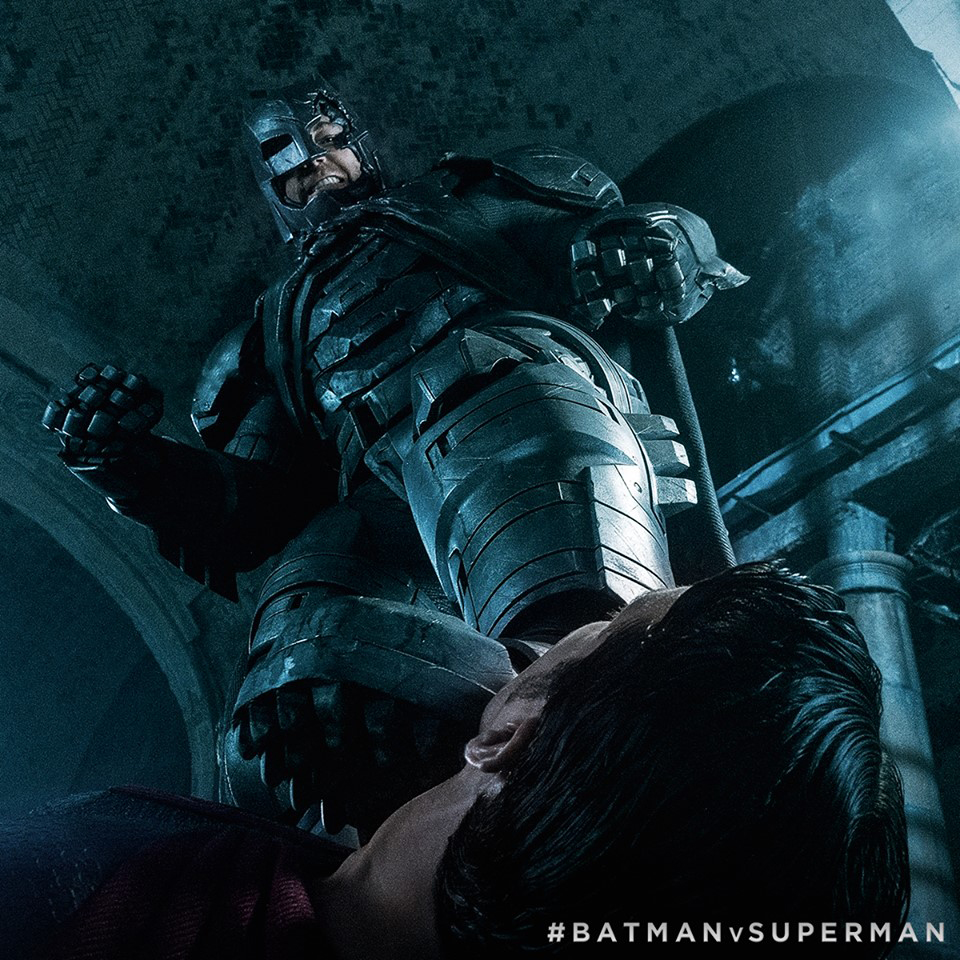 Since its announcement in 2013, Batman v Superman: Dawn of Justice (BvS) had fans waiting on their tippy toes to catch the mad action in cinemas. Director Zack Snyder's choice to cast Ben Affleck as Batman/Bruce Wayne, Henry Cavill as Superman/Clark Kent, and mega hottie Gal Gadot as Wonder Woman, managed to string many non-fans to watch the movie when it premiered in Singapore on the 24th of March. With the trio being easy on the eyes, it is simple to see why.
The plot for BvS starts with the fight between Superman and General Zod. The damage done ripped the hero from being an emblem of hope and turned him into a threat to humanity. In the two-and-a-half hour long film, Batman seeks out to right Superman's wrongs. The two have a bitter and vengeful duel until a new enemy arises bringing hell's wrath to Earth.
The movie theaters were packed on the premiere day but as a proud member of Team Batman, nothing could stop me from catching it first. I mean, how can you not be Team Batman? With that being said, here are my highs and lows on the movie.
High #1:  Pretty to watch
Certain scenes in BvS will wow film lovers. This isn't a surprise since the cinematographer, Larry Fong, has worked on 300 prior to BvS. And I'm sure we all know that 300 was pretty freaking epic.
Low #1: Where's the action?
I would have given the action scenes an A+ if there are more of them. Most of the intense action starts after an hour into the movie – which is a terribly long wait for a superhero movie. But to cut BvS some slack, the action scenes are definitely worth the wait.
High #2: Batman was a badass
Batman has a new suit and a new Batmobile that will make you feel like a loser for not having such a sweet getup. Being simply human, Batman has no superpowers but instead, he utilizes his brain to no end. He engineers his own gadgets, masters martial arts and plans meticulously before confronting his enemy – making his mind a weapon and a real power. I sat through the entire movie like a wide-eyed child– and if that's not how watching superhero movies makes you feel, what are you paying $12 for?
Batman even stared at Superman in the eye and gave his ever-so-popular threat: "Do you bleed?"
Oh and trust me, Superman bled.
Low #2: In for the kill
It is easy to love Batman once you know he doesn't kill. The constant struggle that Bruce faces between almost killing and doing what's right reminds viewers that he has a conscience just like all of us.
In this movie, Batman throws all of his morals out of the window. Though there is a brief explanation why he does it, it is still very unsettling for a fan to watch. Killer Batman is not the Batman I know and love, so Bat-heads alike please be prepared to see this new Batman.
The movie lived up to the hype . Fans can enjoy the movie and witness an incredible fight between (Bat) Man and God (Superman). The movie also has plenty of Easter eggs hinting at the upcoming Justice League movies.  Now that's something to look out for.
For non-fans, this movie may not be your cup of tea. If you are expecting something funny and snazzy to watch, then you're looking at the wrong superhero brand. DC Comics' movies, unlike Marvel's movies, focuses on a lot of dark and sombre tones – and those tones are extremely strong when it comes to complicated superheroes such as Batman and Superman. If you want pure entertainment, then stick to Marvel.
Rating: 8/10
Superfan Nur Aishah is not too enamoured with this movie. See what she has to say.