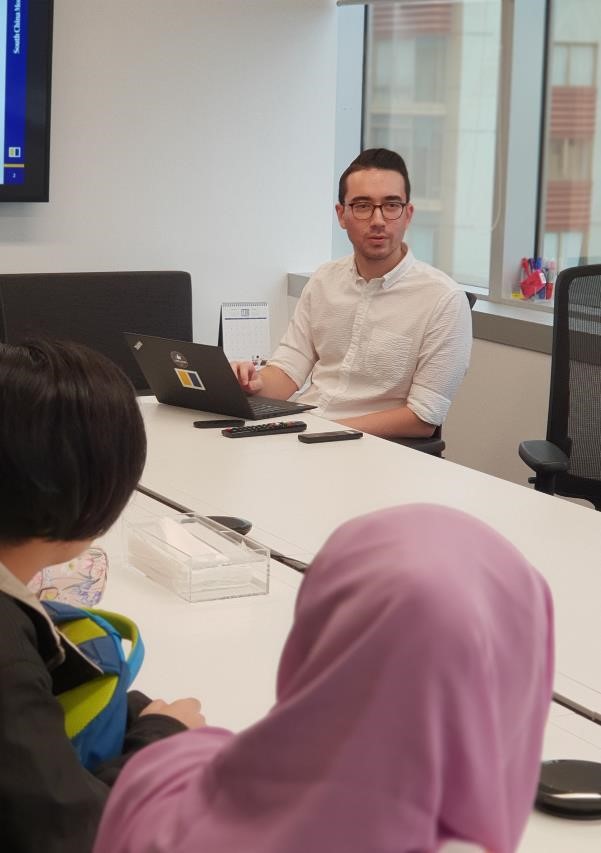 In the busy newsroom on the 19th floor of the Times Square building in Hong Kong, Shea Driscoll stands out – he's one of the tallest journalists in the room and his accent is unmistakably Singaporean.
Mr Driscoll, 29, is the social media editor at Hong Kong's largest English-language publication, The South China Morning Post (SCMP). One of nearly 20 Singaporeans working at the publication, Mr Driscoll is a key player in SCMP's digital transformation as he leads a team of five in running SCMP's digital platforms.
A group of students from Republic Polytechnic's Diploma in Mass Communication met Mr Driscoll when they visited SCMP's new offices in Causeway Bay during a study trip last month. SCMP, which was founded in 1903, has been making strides in its digitalisation efforts, culminating in a slew of awards at the Asian Digital Media Awards last year.
Mr Driscoll is a graduate of Temasek Polytechnic's Communications and Media Management programme and worked his way up from a digital sub-editor at Singapore's flagship newspaper The Straits Times after National Service to his current position.
"As part of the digital team, I had to crop pictures and write captions. But now, I have to carefully choose the content that would cater to my audience," he said.
The soft-spoken Singaporean of Chinese and British descent spoke fondly of his time at The Straits Times, where he discovered his strengths at a time when the newspaper was seriously shifting to the digital space. As print journalists were initially unfamiliar with the usage of social media platforms for uploading stories and producing videos, everyone turned to Mr Driscoll.
"I became very valuable because I knew how to fix things," he said. Now, in his role at SCMP, Mr Driscoll's job includes creating interactive posts and measuring audience engagement rates.
It wasn't all smooth sailing, though. In his past year of living and working in Hong Kong, Mr Driscoll has struggled with the language barrier. Although the SCMP is an English-language publication, Mr Driscoll occasionally has to translate Chinese videos. With Mandarin one of his weakest subjects in school, Mr Driscoll has to rely on his colleagues for help with translation. He advised his DMC guests to take their mother tongue more seriously.
"Being bilingual is an asset in any newsroom in the world," he said. "The more you know, the better. It will definitely help you to come far in your work."
And another ingredient to go far in a journalism career? Sheer hard work. Mr Driscoll's parting words to the DMC group were on tenaciously chasing dreams.
"You need to work harder than everyone else. If you see any opportunities, you have to inject yourself into them by force."