Breadmaker hangs on to traditional methods in an age of technology and machines
The stout 60-year-old man stands in front of a familiar mountain, armed only with a cap, his bare hands and years of experience. This mountain is not located on grasslands; it is slapped on a long metal table. The mountain is not made of rocks and vegetation; it is made of flour, salt and sugar. This is not a mountain Mr Ang Pek Kun will scale; it is one he will shape with his hands.
The mountain of dough is shaped to fluffy loaves of white bread and even the more exotic French loaves.  But there is nothing exotic about Sweetlands Confectionery and Bakery. Decked with simple furniture and basic white tiles while adopting an open concept, the humble shop sends a surge of nostalgia to customers. It resides along the narrow Kim Keat Lane and like an art studio, it is where Mr Ang creates his traditional masterpieces.
Mr Ang has been working at Sweetlands for 20 years, but his experience in bread-making extends to over 40 years. "I learnt bread-making a long time ago, in Paya Lebar, when I was about 18 years old." said Mr Ang in Mandarin. The grey-haired bread-maker is soft-spoken, not something one will expect of the head chef at Sweetlands. For a veteran bread-maker, Mr Ang is unusually not a fan of bread and only learnt the skill as a means to get by when times were difficult in the past.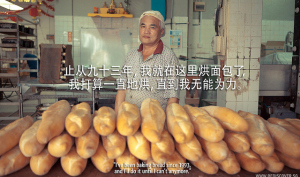 He was a bus technician before he picked up bread-making, handling machines instead of dough. Today, he leads a team of about five men at Sweetlands, one of only eight traditional bakeries left in Singapore that challenges conventional methods of bread making, according to a Straits Times article in November 2012.
TRADITIONAL BREAD HEYDAY
Traditional bakeries used to be a common sight in Singapore, but giant brands like Gardenia and Sunshine have taken over the breakfast table of the average Singaporean. One of Mr Ang's team members, Mr Wu Jian Cai, 53, shared that in the past, there were about 200 shops all over Singapore. "Learning to make bread by hand is a skill. It is difficult to find such skills today," said Mr Wu in Mandarin.
Despite it being a dying art, bread-making continues to be Mr Ang's livelihood ever since he picked up the skills of the trade and he went on to work in many different bread shops before settling down at Sweetlands in 1993. It was evident that bread-making has become routine for him as he effortlessly explains the steps. "The first step is to put salt and sugar to the flour," explained Mr Ang. "After mixing, we will bake it for about one to two hours. There will be charred areas as the oven is over 200 degrees Celsius and we will have to slice out the charred areas."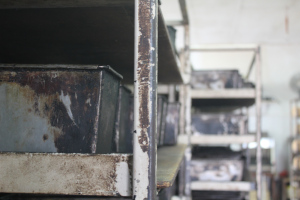 The instructions seem simple, but the traditional form of bread-making means that the possibility of human error still exists. "It is difficult," Mr Ang admitted. "You put a wrong ingredient and the whole batch is ruined. You will have to restart the whole process." The seemingly simple white bread may seem soft and light, but background heavy work has to be done before the final presentation. "People tend to think that the dough is light, but it is actually very heavy," said Mr Ang. The weight of the dough is understandable, considering that over a thousand loaves of bread are made in one sitting.
The huge demand for bread has reunited Mr Ang with his former job as a bus technician in the form of handling machinery. But Mr Ang is not just a chief operator overseeing the machines; he is still very much in the thick of the action, kneading and moulding the mountain of dough, transforming it to over a thousand loaves of fluffy white goodness.
SPREADING THE BREAD
These completed loaves are delivered out to schools and cafeterias, while a portion remains for in-house purchase. Myanmar sales assistant, Mr Nainglim, 27, is on the frontline at Sweetlands and assists with selling the traditional hand-made bread to customers. "It is usually regular customers but there are also new faces," said Mr Nainglim of the customer base at Sweetlands. The cheerful sales assistant has only been at Sweetlands for five months but he interacts with customers as if they are friends. He admires Mr Ang for his skills in manoeuvring through the difficulties of bread-making. "He is the head chef, in charge of making over one thousand loaves of bread," said Mr Nainglim. "The oven is really hot but Mr Ang is able to handle it because he is experienced."
Mr Ang is an old hand at bread-making in an age where traditional bread-makers are scarce. With the dying art possible becoming a thing of the past, it will be up to the next generation to learn the ropes and continue the trade. "Maybe one day, I will learn how to bake," said Mr Nainglim. Perhaps there is still hope for the future of traditional bread.
This is an edited version of an article written by a final-year Diploma in Mass Communication student for a feature writing assignment in January 2014.