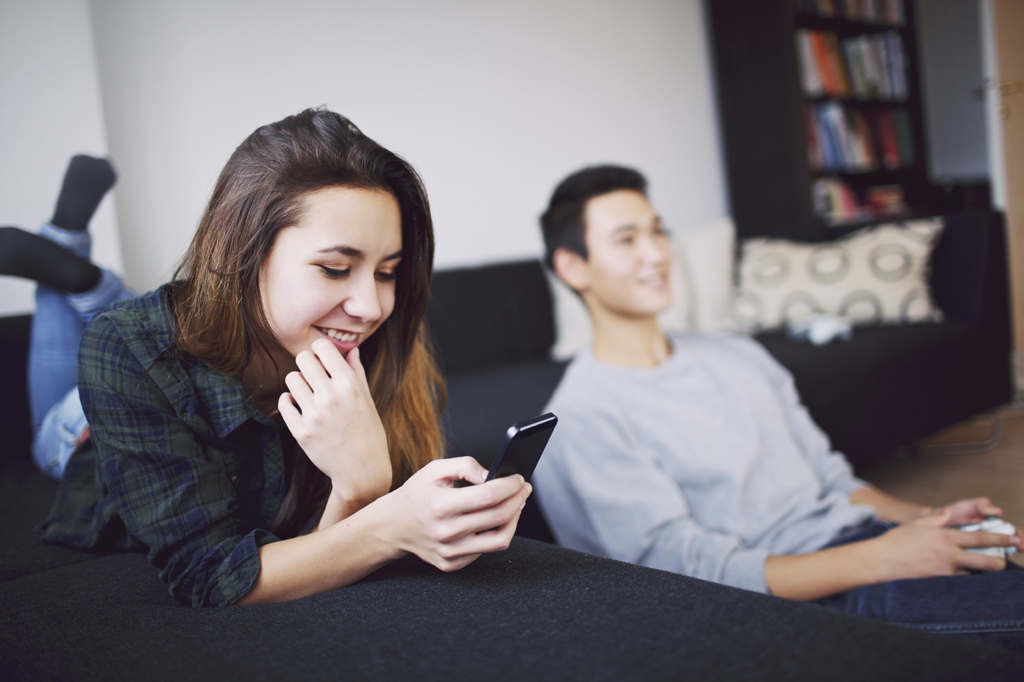 Her alarm goes off, the sharp shrill of the tone arousing her from her sleep. The sunlight seeps through the curtains. She rummages through the sheets, fingers stretched out for the smartphone device. With eyes half opened, Cheryl Lee shuts the buzz off with a swift swipe. Her Samsung Galaxy S4 prompts her for a passcode and like clockwork, she punches in those four digits onto the touch screen. Even with squinty eyes, she has already launched her Instagram app on her phone, eager to see how many likes and comments she has garnered for her latest picture upload last night of her frozen yogurt.
On average, Cheryl spends up to eight hours on social media and the Internet daily. Be it social media websites on her phone or immersing herself in virtual games on her laptop, she does it all. The design polytechnic student has even admitted to exceeding her mobile data limit of 12gigabytes every month, no thanks to her addiction to the virtual lifestyle.
"I check my social media accounts, Tumblr and also play games on my laptop," said the 19-year old.
Singapore is one of the world's most wired places – with at least one Internet connection per household, and the highest percentage of smart phone users in the world. A survey by Tata Communications and reported by CNBC found that over half of Singaporeans say that they will not be able to last up to 12 hours without internet access. Also, a total of 43 percent of Singapore respondents also said they spend more than six hours a day surfing the web, much higher than the global average of 29 percent.
Singaporean youths are finding themselves embroiled in the problem of spending too much time online, be it using their phones or computers. Joy (who only wishes to be known by her surname) feels uncomfortable if she does not check her social media websites on her smartphone while travelling. At home, the 20- year-old surfs various websites at any one time, and watches several YouTube videos every day. Her parents have tried persistently nagging at her for her almost-constant use of the Internet but she just cannot forgo being online. "I feel cut off from civilization if I don't access social media. I'll be uncomfortable," the Republic Polytechnic student said.
Joy is not the only young person that uses the Internet excessively. The Institute of Mental Health's National Addictions Management Service said most of the Internet addicts it treated were youth.
Medical professionals and experts warn that Internet addiction can be crippling, leading people to neglect work and school and even social lives by disrupting real-life relationships.
Nineteen-year-old Farizah, (who only wants to be known by her first name) admits to not bonding with her parents because she is perpetually glued to her laptop and smartphone screen. "I hardly speak to my parents because I'll always be in my room and on my laptop or using my phone," she said.
Even though the amount of time Singapore youth spend online is worrying when compared to their counterparts in Europe and the U.S., many flatly deny that they need to seek help for their web addiction.
In Asia, governments in South Korea, Thailand, Vietnam and China are implementing policies to fight internet addiction among youths. Regulations include banning youths from Internet cafes and introducing control programs that shuts teenage users off networked games after a certain number hours.
Farizah shared that she does not feel that she needs help because everyone else, including her parents, is spending time online playing games. Her family even discuss about these games together.  "I know that my addiction is a serious problem by wasting my life away online. But then again, everyone else is online as well. So I don't really think it is that worrying," said Cheryl.
Youths can find out if their Internet usage is an issue and determining their level of Internet dependency by taking self-assessment tests on websites like NetAddiction.com.
This is a story done by a second-year Diploma in Mass Communication student for a feature writing class assignment in November 2014.