Fans of Arsenal were encouraged by what they had witnessed during the recent International Champions Cup (ICC) matches in Singapore as a new era beckons for the English football club.
In May, Unai Emery replaced long-serving manager Arsene Wenger. The club has also signed five new players – goalkeeper Bernd Leno, right-back Stephan Lichtsteiner, centre-back Sokratis Papastathopoulos, midfielders Lucas Torreira and Mattéo Guendouzi.
In the first of two matches in Singapore, Arsenal drew 1-1 with Atletico Madrid before losing 3-1 in a penalty shoot-out. The Gunners then beat Paris Saint-Germain 5-1 in their second International Champions Cup match.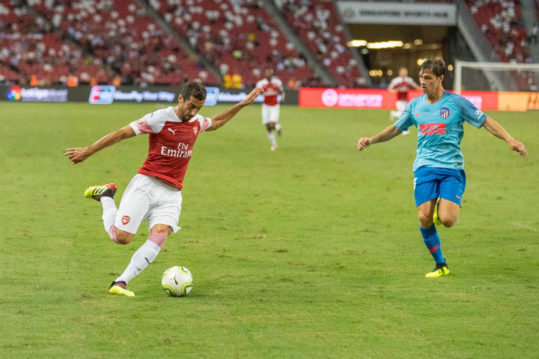 Arsenal fan Muhammad Suhairi, 21, said the new line-up looks "very promising". "I hope that Emery can continue or improve Wenger's legacy," he said.
Under Wenger, Arsenal won 17 trophies during the French manager's 22-year reign at the club. But the Spaniard Emery is no amateur either – he led Paris Saint-Germain to a domestic treble last season.
"Emery has proved to me that his coaching indeed has brought hope to Arsenal," said fan Muhammad Hidir, 21. "He has also done a good job with the new signings such as Guendouzi and (17-year-old Emile Smith) Rowe. Both are very promising for their age, and potentially can bring Arsenal to win the Premier League."
For The Gunners to challenge for the title, senior players – such as strikers Pierre-Emerick Aubameyang and Alexandre Lacazette, as well as midfielders Henrikh Mkhitaryan and Mesut Özil – will have to be more consistent.
In particular, some fans have hoped that midfielder Mkhitaryan could reproduce his fine form at German side Borussia Dortmund before the Armenian made the switch to English football. "Maybe you won't see the Mikhi from 2015/16 Dortmund season because I'm in Arsenal now. It's a different club with a different philosophy," said the 29-year-old after the first ICC match. "I'm working hard on scoring as many goals as possible and I'm sure that I'll have a great season."
The arrival of goalkeeper Leno may also mean a change of guard in goal, as the German looks set to replace Petr Cech. Some fans, however, hopes that the experienced Cech would remain with the club.
"I hope that Cech gets to keep his number 1 jersey and doesn't return back to Chelsea. He's an important player that is very crucial to the team," said Idham Shah, 21.
Arsenal fan Hakiman, 18, was impressed with Leno. "With more tactical training, Arsenal will be able to win the Premier League title and it would be a big celebration for them with their fans," he said.
The new manager Emery is more cautious. "We will continue our preparation and not change our focus, and our focus is giving the best and working on the tactical things to be better before going into the match," he said after the first ICC match.