Republic Polytechnic's signature music festival IGNITE! made a triumphant return this year as the event garnered its largest ever turnout.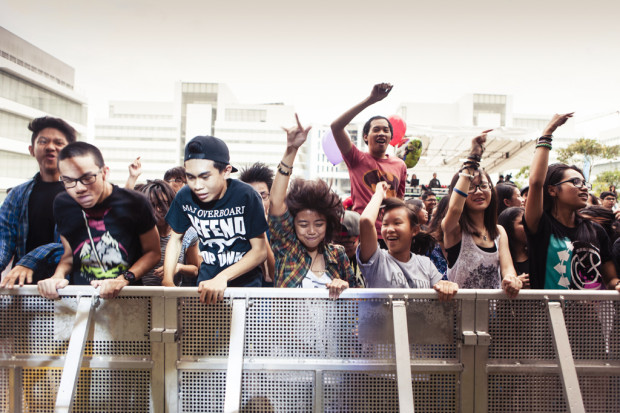 It started fairly modestly as a student-driven project under the auspices of The Republic Cultural Centre (TRCC) in 2007. Today, IGNITE! is a must-watch concert that celebrates local music. Held in Republic Polytechnic on the 15th and 16th of August this year, festival organisers said more than 14,000 people came – its biggest number yet.
As word of the festival spread, more non-RP students came by. One such person was 17-year old Ngee Ann Polytechnic student Regin Ho, who has been a faithful follower.
"Whenever you're at a concert, I feel like there's this vibe of unity around the people who listen to the same kind of music, and I really like it,'' said Regin.
It seems that word of the annual festival has not only reached  other polytechnics, but overseas as well.
Anton Markov, a 24 year-old Russian, read about the festival on a website and planned a visit to Singapore just so that he could attend the festival with his girlfriend during his stay here. He said: "I found information about this concert only yesterday, I found it in BandWagon's website, and here I am."
Local or foreign, no one was disappointed with what was on offer. The line-up this year featured electrifying performances ranging from this year's breakthrough artist Gentle Bones to indie folk livewires The Sam Willows, seasoned rockers Plain Sunset to post-hardcore headliners Caracal and even Singapore's very own Kanye West, hip-hop artist Shigga Shay.
DAY ONE
Youthful alternative rock quartet Aspectrum kicked off the set on the first day. The crowd was soon infected with pulsing energy courtesy of RP's home-grown band from Jammerz Arena Interest Group (IG), the lively and quirky pop band 53A and more.
The real show, however, began when Shigga Shay took to the stage with his hit single Limpeh (father in English). He also performed a new song, Lion City Kia, for the first time live, featuring rappers of different ethnic groups in his performance, justifying his claim of being a "child" of Singapore. His stupendous performance set the stage for what seemed to be one of the crowd's favourites, Joel Tan, more commonly known under his moniker, Gentle Bones.
The young artist certainly lived up to his name as his gentle tunes plucked the heart strings of many in the audience. The highlight of his performance was when he performed his tender love song Elusive, accompanied by a mesmerizing sea of flashlights and torches from the audience, swaying from side to side under instructions from Gentle Bones himself, creating a magical ambience.
The popular Sam Willows took to the stage next, using Gentle Bones' idea of flashlights and lighters during their own performance. Coincidentally, it happened to be band member and RP alumnus Benjamin Kheng's birthday, and the crowd sang a "Happy Birthday" song to him as his fellow performers brought out a cake on stage. The Sam Willows ended their set with a bang with their well-known single Glasshouse, much to the crowd's delight.
Related Story
DAY TWO
The second day proved even better than the first. The crowd began to form as early as 4:30pm to check out the stalls that accompanied the stage: with band merchandise, clothing brands such as Macbeth and Suave clothing and food stalls such as Pezzo pizza and Ramly burgers setting the scene for an exciting last day of the festival.
Replug IG set the bar high for the second day, as they belted out their own take on songs such as Beyonce's Halo and Put Your Records On by Corinne Bailey Rae.
Local bands such as OrangeCove and Pleasantry got the growing crowd hyped up as the day wore on.  However, the atmosphere intensified as alternative rock band Bear Culture, made up of RP alumni, took to the stage, with their female vocalist Nur Amira binte Khairil Anua belting out powerful notes as she thrashed her long hair about on stage. The band dedicated and performed an original song, Timeless to a friend who died recently.  Nur Amira teared on stage as she said "This one's for you" as she looked up to the sky.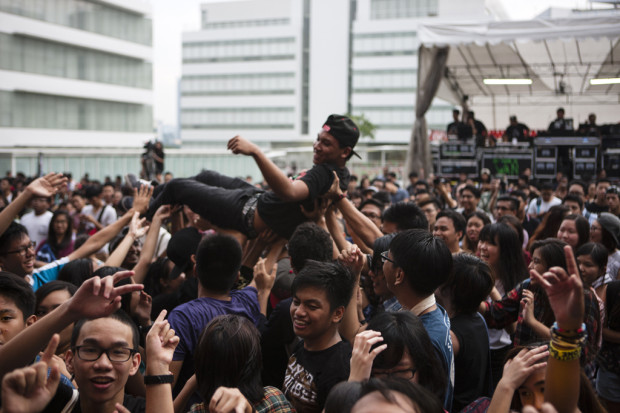 Next, the show-stopping band many attended IGNITE! for finally took to the stage. They have been headliners at IGNITE! for seven years and for good reason: when Caracal began their set with crowd favourite Charlatan, their heavy riffs and harmonic lines caused an explosion of energy in the audience. It got a little crazy as the audience began head-banging and crowd-surfing, causing worry amongst the security staff who kept an eagle eye on them.
The band was forced to cut their setlist short by one song due to safety concerns. The audience was left begging for more, chanting "One more song!" in unison as the band thanked them and walked off the stage.
Old but gold rock band Plain Sunset took the stage next, joking about how hard it was to follow an act like Caracal, saying: "We shouldn't be ending this set; we're a bunch of old guys, the other bands are so much better!" However, they gave a fitting end to the festival, as they put on a seamless high-energy performance for loyal fans, and had the crowd singing along to their well-known songs such as River Song. They ended the concert with a bang, performing the song that started it all for the 17-year-old band, Plainsunset.