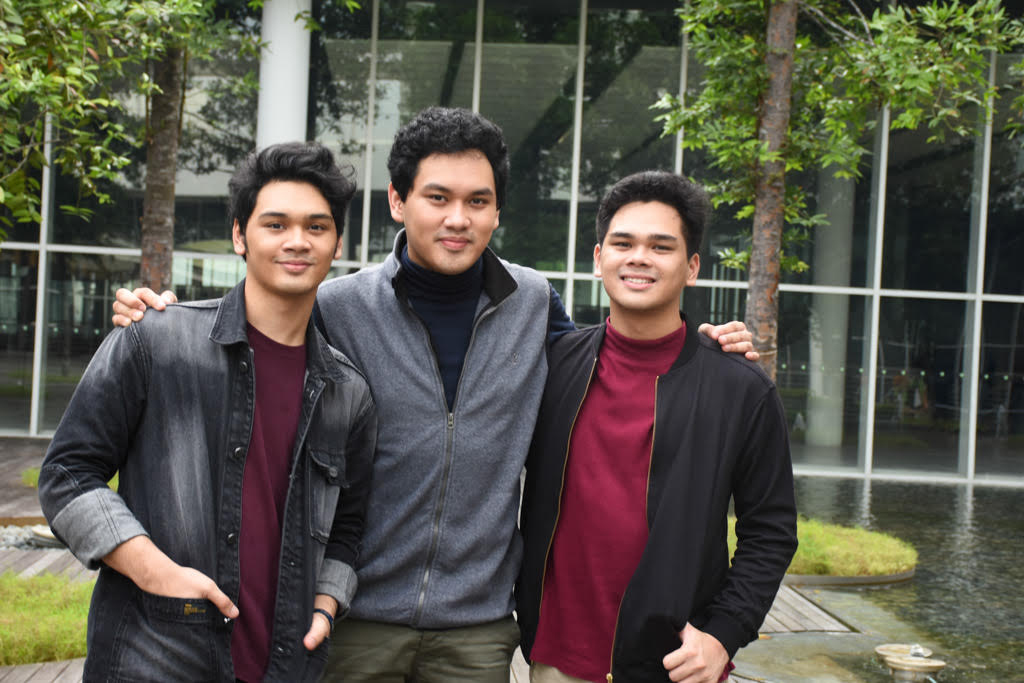 Last year, a trio of brothers from Indonesia known as The Overtunes stepped foot in Singapore for the first time to catch The Script in concert. That fateful night introduced them to local group The Sam Willows, who opened for the Irish band. Little did they know that a year later, it would be their turn to open for the Willows in their first ever overseas gig.
The Overtunes played their set at The Sam Willows' first full concert at The Coliseum at the Hard Rock Hotel last Friday. The folk-pop band, made up of the Brahmantyo brothers Reuben Nathaniel, Mikha Angelo and Mada Emmanuelle, performed songs from their first English EP Yours Forever.
This being their first time outside the familiarity of home in Jakarta, the brothers felt some anxiety about their performance.
"We feel excited yet nervous at the same time because it (performing overseas) is a new challenge for us," said guitarist Nathaniel, 19.
The band, whose music is reminiscent of the easy listening tunes of American singers Jason Mraz and Jack Johnson, now wants to focus on English songs, drawing on their catalog of songs written since their early teens. This, despite releasing material only in Bahasa Indonesia since 2013.
"We actually started writing songs in English because it's more difficult to write lyrics in Bahasa Indonesia even though we speak it everyday," confessed Angelo, 18.
The brothers have always been huge music fans and started playing instruments at a tender age. What really kicked off their music career was when Angelo finished as a finalist on The X Factor Indonesia in 2013.
Success swiftly followed.  Sony Music Indonesia signed them on and last year they released their first full album, Selamanya+, after a string of singles.
The band also got to work with famous YouTuber Kurt Hugo Schneider and Kahitna, a veteran music group from Bandung, Indonesia.
"Collaborating with legendary band Kahitna was my best performing experience yet," said bassist and eldest brother Emmanuelle, 22.
Big names aside, their favourite moments are when they stand in front of large crowds performing the songs they wrote in their bedroom, amidst the banter and bickering typical of siblings who work together.
"Sometimes, we take advantage of the fact that we know each other so well that we use it against each other, like, 'I don't like the bass notes you were playing'. And it can really hurt," revealed Angelo. But they also share plenty of lighthearted moments , such as during their interview with The Republican Post. When asked about where they saw themselves five years from now, Emmanuelle deadpanned: "Get married."
After an eruption of hearty laughter, the brothers finally revealed their hopes for the future. Nathaniel said: "Probably release several more albums, write better songs than the first album and have another gig in Singapore." Undoubtedly as the main headline act this time.
Follow The Overtunes on Instagram and Twitter @TheOvertunes and their YouTube channel https://www.youtube.com/user/ToTheOvertunes .
Watch The Overtunes perform Yours Forever in the School of Management and Communication's very own Media Lab below: