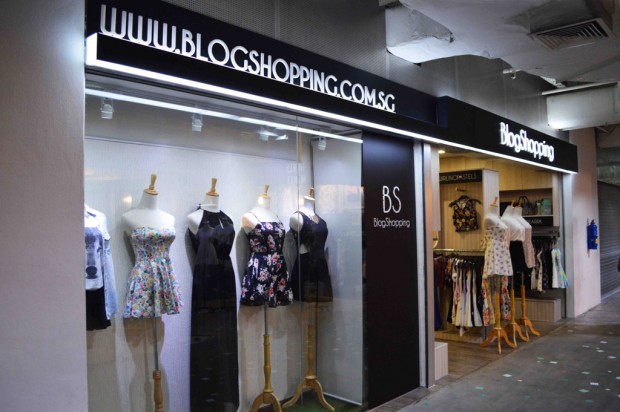 At an age where the internet has taken over the lives of Singaporeans, one area that has grown is blog-shopping. Some young and trendy entrepreneurs were quick to start businesses selling fashionable apparel and accessories for the everyday girl on blog platforms like Blogspot and Livejournal. Theory of Seven and Runway Bandits are blogshops that have managed to gain much recognition and presence in the world of blogshops, with over 40,000 likes on Facebook.
Livejournal has reported to have hosted over 50,000 Blog Shops in Singapore so far. Having achieved some success selling their wares online, some blog-shops brands are now taking their businesses offline – onto racks in physical shops.
Many have opened up stores of their own while others, together with other blog-shops labels have come together to open multi-label stores such as the ones you find all over Orchard Road – such as Far East Plaza and Orchard central.
Already having attained such a breakthrough from their online shops, why have they decided to set up physical shops?
Seetoh Zoe Yee, 19, started up blog-shop, Static Fumes in mid-2010 and since 2012 held a physical rack with other blog-shops at MIYOC, a multi-label store at Orchard Central says: "We wanted to be able to cater to the needs of the customers; previously they were asking if the colours and size were true to picture and measurement. But now they can see for themselves."
Blog-shop fanatics have found a whole lot of new reasons to purchase from them, even those who were previously hesitant to make a purchase online. Because not only are they able to inspect pieces and try on the different sizes to see which fits best but also they can save the cost of mailing the item. But there are drawbacks. Some blog-shoppers feel that the choices of clothes have become limited in Singapore.
"Nowadays after so many of these blog-shops have become physical stores, I think twice before getting a dress I like because I see it all over town on display and on other girls. And no one likes to be spotted in the same dress as someone else," says Pan Yingxuan, 17, who is has been a firm supporter of blog-shops since 2011.
Another avid blog-shopper, Rachel Chua, 19, says: "Everyone's wearing the same thing, because most blog-shops have the same supplier. And since there's so many of them everywhere, it's almost as if what they sell becomes the newest fashion trend in Singapore."
The cost of manufacturing their own designs is much too expensive in Singapore for some of these blog-shop owners to afford for every collection they release, and so many of them have turned to local wholesalers whom bring in items from Bangkok, South Korea and China. However, the pool of these wholesalers in Singapore is small and many of these blog-shop owners are left to share one, ending up with the same variation of clothing.