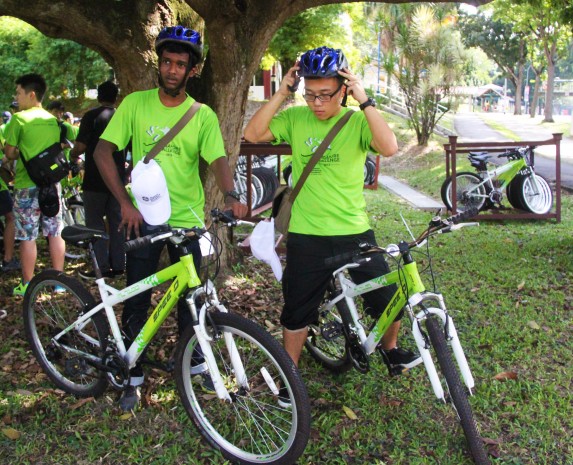 An Amazing Race-esque format with a twist, The Singapore Challenge aims to foster relationships and bridge barriers between different cultures. Second-year Mass Communication student Mohamed Suhail took part in the event and shares his experience.
I thought I knew Singapore. I mean, I was born here. Eighteen years living on this island they call the "little red dot". Red, sure. But little? I beg to differ. When I heard about the Singapore Challenge I thought this would be a wonderful opportunity to prove that I had been paying attention to my Social Studies lessons. Yet after going through this race, what amazed me most was the knowledge of Singapore that my foreigner team mates had. Truly this race has a clear purpose – to bond this country's multi-racial inhabitants.
Organised by the Singapore International Foundation's (SIF), the annual Singapore Challenge brings local and international youths together for a race around the island. This year's participants comprised of 17 different nationalities.
I was part of Republic Polytechnic's Team Sleight. The eight youths in the team comprised of six local and two students from China.  Bishan Park, Ang Mo Kio, the URA Building and Clarke Quay were the places our team explored in this year's edition.
Right from the flag off at Nanyang Polytechnic to our finishing line in Republic Polytechnic, we felt as though we travelled throughout Singapore. Our first challenge was the Balloon Challenge at Bishan Park. Teams had to form "human trains" with balloons placed between each member and at the same time pick up cards on the ground. Five minutes was all we took, leaving us plenty of time to get to know one another.
"The constant team bonding throughout the race made us stronger as one team," said 21-year-old Biotechnology student Choy Sher Nee, a Chinese national.
With our team's morale high, we headed for a pasar malam in Ang Mo Kio for our next challenge. We had to look for well-known phrases such as "Drop one item at a time", which could be found at the entrance of the library. We thought it would be a piece of cake, but we were made to sweat, running around desperately just to complete the blanks.
The Urban Redevelopment Authority (URA) edifice was up next. We had to search inside the building to answer worksheet questions on Singapore's heritage. The job was done in two minutes, the topic of heritage being our forte.
Our final task was to paint murals at the Coleman Bridge Underpass in Clarke Quay. Spilling even a drop of paint would cause us to lose five points. However, as winning the race was not our objective, we took delight in splashing paint onto one another.
"I did not know painting murals could calm my mind until today," said 19-year-old Adeline Tan from the Diploma in Health Promotion and Management. "It is a meaningful and fun experience for me."
At the end of the day, we trudged back to RP's Agora Hall famished. My team mates ignored their hunger as they waited a good half hour for me to break my fast so we could eat together. It was the highlight of the day for me, and reflected the bond that we had formed. Regardless of cultural background.