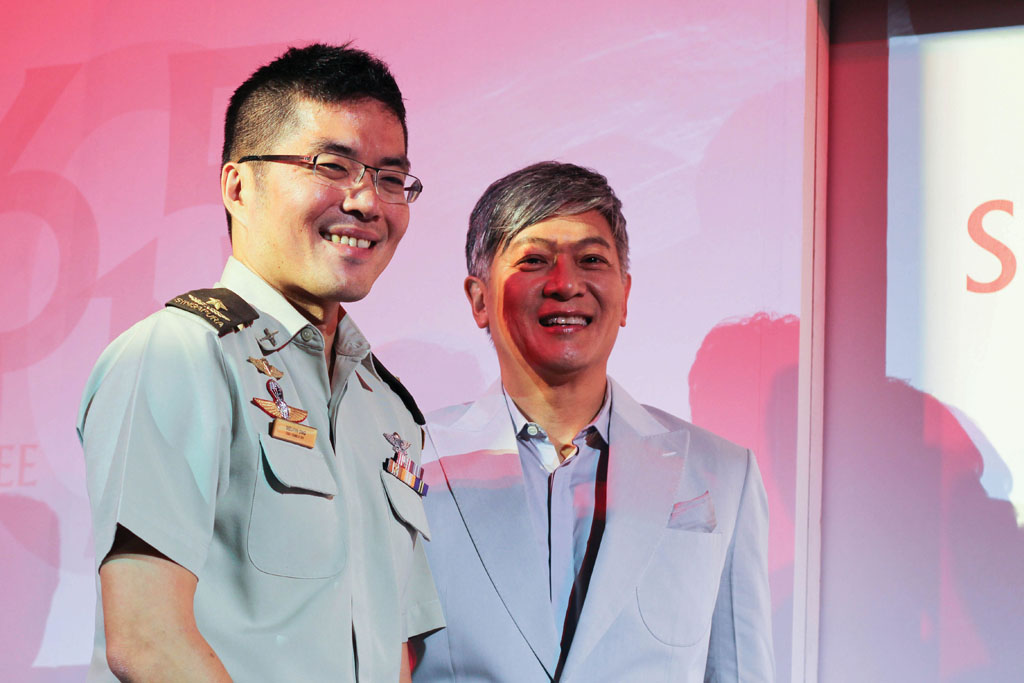 After years of saying 'no', singer songwriter Dick Lee has finally agreed to pen a National Day Parade (NDP) theme song.
The song, Our Singapore, will be performed by pop singer JJ Lin at this year's NDP. The song was first unveiled on May 6 by Mr Lee, who performed it during a press conference.
Speaking to reporters, Mr Lee said he was initially hesitant about writing another NDP theme song after the success of his previous hit, Home. The 1998 NDP theme song performed by Kit Chan is regarded by many Singaporeans as their favourite National Day song.
"Year after year, I've been asked since Home. I know I have to top that and it is like you can't top Silent Night or Jingle Bells," said Mr Lee. He also wrote We Will Get There, which was performed by Stefanie Sun at the 2002 NDP.
Mr Lee told reporters he felt "a lot of pressure" when writing this year's song. He wrote four other songs, before settling on Our Singapore. "It just felt right especially as I was looking at all the SG50 plans and I realised there's a lot of focus on the past and not really enough about the future. So, I felt why don't I write a song about the next step and what's to come," the 57-year-old said.
Mr Lee acknowledged that comparisons between the new song and Home would be inevitable. He stressed that Home is about the present, while Our Singapore is about the future.
Quoting his favourite line of the song – And amazing as it seems, it all started with a dream – Mr Lee explained that the lyrics described how the modern Singapore started with a dream. "Our responsibility is to bring the dream forward," he added.
Mr Lee said he is "terrified" about the reception to his latest song. "It is going to be put out there to be judged. But then I thought about it, I've been judged all my life…everything I do is being judged," he added.
Here are five reasons why you wouldn't' want to miss out on this jubilee party.
1) Tribute segment to the late Mr Lee Kuan Yew
What better way to start off the celebration than with a moment of remembrance for Singapore's founding Prime Minister. Mr Lee Kuan Yew's usual seat will be left empty while a tribute video celebrating his contributions to Singapore will also be played.
2) Stunning aerial display
A total of 50 RSAF's warplanes will take part in an aerial display during the NDP. Some planes will form a giant "50", while The Republic of Singapore Air Force's Black Knights aerial acrobatics team will execute a special "Five Stars' flypast  in honour of Mr Lee. The five F16Cs will represent the ideals that Mr Lee spent his life pursuing – democracy, peace, equality, justice and progress.
3) Recreating a parade of the past
Ever wonder what the NDP was like in the 1970s? The first segment of the show, 'Beginnings', will take you back in time, re-enacting the street parades of the past. Expect to see policemen in shorts and nurses in their retro uniforms.
4) Double the fireworks, double the joy
The fireworks display at the climax of the parade will be turned up a notch. Expect twice the extravagance this year with fireworks lighting up the skies above the Padang and Marina Reservoir. LED screens will also be placed around the area so that the public can view the aerial display and fireworks.
5) Singapore indie pop group, The Sam Willows
The group will perform Home, the song many Singaporeans regard as their favourite NDP theme song. Last year, the group received rave reviews for their rendition of the classic. Sharing the video on his Facebook page, Prime Minister Lee Hsien Loong said: "Quite different from Dick Lee's original version, but a beautiful interpretation."