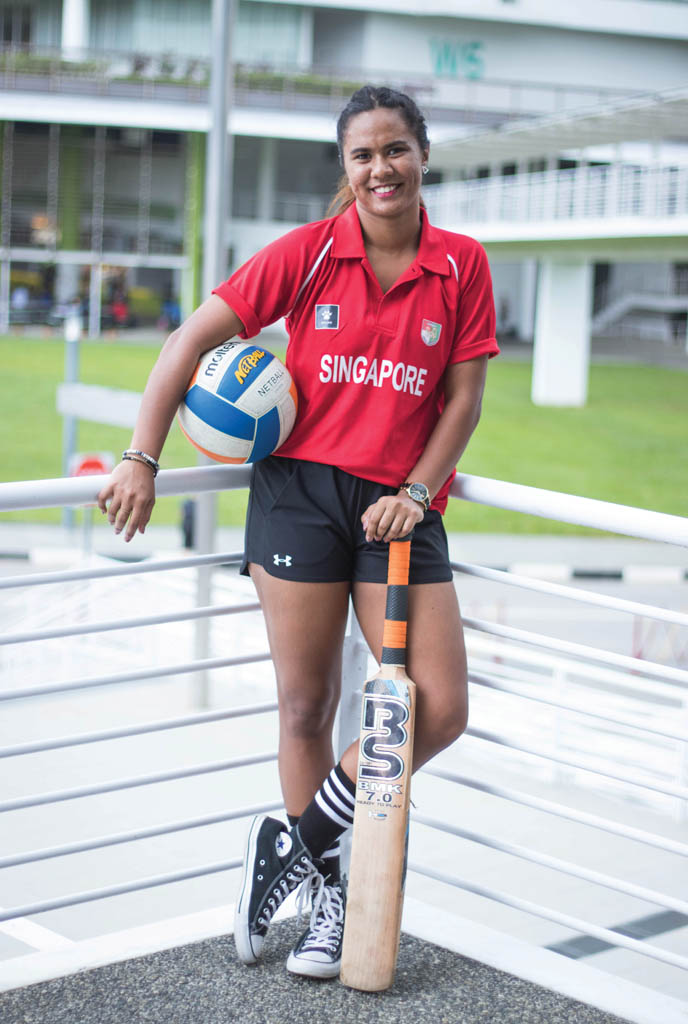 Shafina Mahesh, a second-year Mass Communication student, could be considered a rare breed in sports. The 18-year-old is a dual-sport athlete and has represented Singapore in both netball and cricket.
Shafina began playing netball in Primary One. "Back then, I was very tall for a primary school student so my coach decided to put me as a defender ever since Primary Three. So until now, I've been a defender for a decade," she said.
Shafina started playing cricket when she was 11. Her father, Mr Mahesh Kumar, an ex-national cricket player, was her inspiration.
Competing in two sports at the highest level has meant Shafina trains seven times a week – three days are set aside for netball and the remaining on cricket.
When asked about how she manages the rigor of training and school, she said: "I actively set my timetable every week. With classes that start at 1 p.m., I go for training before and after school."
"I get mentally drained out very easily with training every day and the stress that I get from playing two sports," she added. "When I'm at my lowest, the best people to talk to are my best friends and my dad."
Mr Mahesh said Shafina has a passion and strong determination for sports. Furthermore, Shafina has good physical and mental attributes, he added. Diviya G K, 30, captain of the Singapore Women's Cricket team, said: "Shafina's very positive. She's a fighter, she doesn't give up and she's always looking to improve."
Even though the training may be physically and mentally draining, Shafina said she has never confused the rules of netball and cricket. Both sports do not have similar rules, but she acknowledged there were times when she had mixed up the terms used.
Shafina is currently training hard with the national women's cricket team for the Southeast Asian (SEA) Games in Kuala Lumpur in August. She said she had to sacrifice time spent with her family and friends.
"My time with my family has been cut down a lot," she said. "So to make sure it's not totally gone, I try not to have dinner outside because my parents would be home and there will be food there. So I'll always try to dine in with them although training can end late sometimes."
Shafina is looking forward to take a break after the SEA Games to catch up with family and friends. "Sports wise, I will continue training to strive for more in both netball and cricket – Definitely time for myself to recover and build myself," she said.
Shafina joked: "Maybe starting a new sport?"