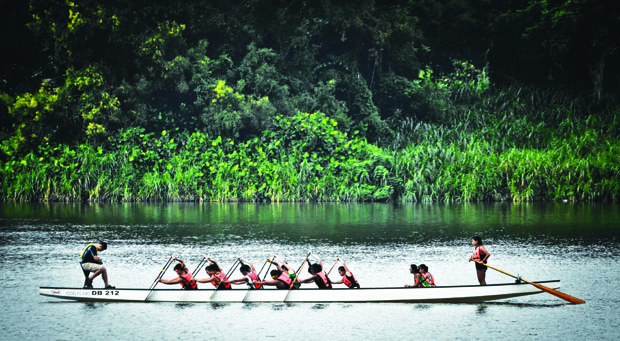 RP's Dragon Boat girls' team has a reputation to keep and in this year's POL-ITE 2013 games, they aim to claim golden glory.
Mention the words "dragon boat" and you are likely to imagine buff bronze boys who train six days a week. But the little known yet equally powerful girls' team has shown they have what it takes to be one of the top IGs in RP.
Five years ago, the Republic Polytechnic Dragon Boat (RPDB) girls' team comprised only about 12 members. Today, the 16-member team competes in a string of prestigious dragon boat events. Recent ones include the Club Crew World Championships, SAVA Sprint 2012, Singapore River Regatta 2012, PA Paddle Championships 2013, DBS Marina Bay Regatta 2013 and DBS Bay Festival Invitational Race 2013.
For the races among the local education institutions, the team has won gold in the POL-ITE games four times since 2008. POL-ITE is an annual competition of nearly 30 sports involving the Institute of Technical Education and the five polytechnics. The RPDB girls' team only missed the gold last year and had to settle for a bronze medal. It was a hard drop for the team but they have not given up.
Huin Jia Yi, 19, the Vice-Captain of the RPDB girls' team credits the team's continued success to their mindset of never giving up, climbing back from failure and being united.
"We probably just didn't expect Nanyang Polytechnic and Singapore Polytechnic to shoot up within a year and become stronger," she said. "The lesson is to constantly watch out for the other institutions and always train harder to win them in other races."
As the drummer, Jia Yi's role is crucial to the rhythm of the team's paddling. Although she has had no previous experience in dragon boating, that has not stopped her from learning the sport and blending right in with the rest.
Coach and Mentor
Behind the girls' success is team coach Mr See Chin Tien. Having started coaching eight years ago, the girls are the only team that he has trained after his own career in dragon boating. Mr See says that there are several merits that a team needs to succeed.
"Teamwork is one of the qualities. Desire, commitment and fighting spirit are also very important," he said. After the bitter bronze pill, the team is preparing intensively for this year's competition, paddling four times a week at Lower Seletar Reservoir, in addition to training at the gym twice a week.
Said team captain, Esther Tan Shu Ting, 20: "For the girls, I think it is the bond we share that makes us strong. Jia Yi and I are there to lead or guide the team, but without the members, the team won't be able to function at all. We are weak as individuals, but we work well together.''
Bringing back the gold
Having paddled for almost three years, Esther still feels the sting of the loss last year. "We definitely had problems in the team and that was one of the reasons for our loss. We have tried to minimise conflicts by focusing on training and I do hope and pray that this year would be our year again."
Mr Chin has been preparing his girls for the competition in October and he knows more than anyone else that being a champion is not about sailing in and sweeping a medal.
"We will certainly root for the girls when they meet their opponents," he says. "There is no easy way out if you want to be champion. You need to put in time, effort, sweat, and tears. We have to train hard and fight when the time comes. Hopefully we can get gold in 2013."