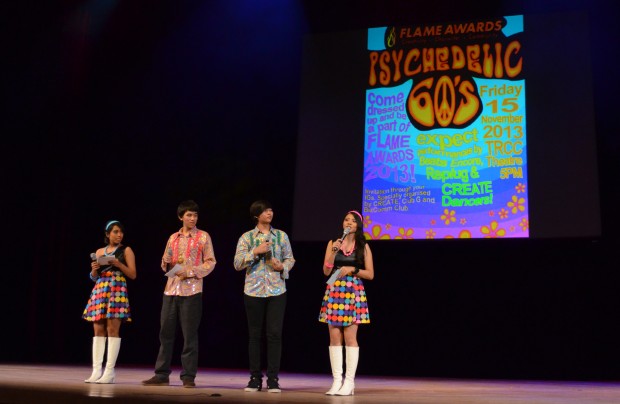 It was an evening of loud colours, big hair and outrageous outfits as participants and spectators of the Flame Awards channelled their inner hippie to match the event's Psychedelic 60s theme.
The Flame Awards 2013, held on Nov 15 at The Republic Cultural Centre (TRCC), is an annual ceremony that celebrates the achievements of the three arts clubs in Republic Polytechnic – CREATE, Club:G and Bizcomm. Over 300 awards such as the Alumni Award, Outstanding Award, and Most Improved IG Award were handed to members of the clubs.
The show opened to a thunderous performance from Beats Encore, who performed their foot-stomping item from World Drum Night II. Everybody cheered and clapped, creating an uproarious atmosphere.
Mr Ganesh Kalyanam, Director of Office of Student and Graduate Affairs, then shared a heartfelt address, turning the mood to a more wistful one, for a short video presentation featuring memorable moments of the IGs over the past year.
"As an awardee, I felt really touched that we had this entire award ceremony to recognise us for our contributions, no matter how big or small," said Tan Hwee Ngee Marianne, 18, an Arts and Theatre Management student who received an Arts for Hearts award.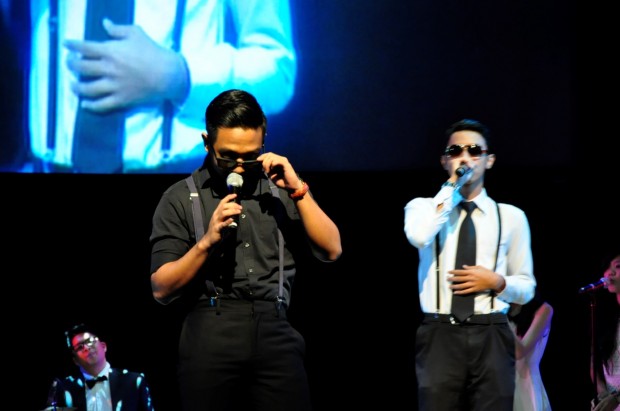 Of the many awards given that night, the one with the most thunderous reception was the Best Dressed Award. The emcees called out six pre-selected individuals, then told them to strut down the stage to howls of laughter from the audience.
Replug then took the stage with their zestful performances of Ain't No Mountain High Enough and Can't Take My Eyes Off You, before MUSE closed the night with Transcending Rihanna. The energetic dance number had modern and cultural dancers performing to a medley of Rihanna's infectious dance tracks.
Tan Yi Ning Steffi, 17, an Arts and Theatre Management student, was one happy member of the audience. She said: "I found that it was really entertaining, mainly from the performances put up by the IGs and the engaging MCs."
TRCC student representative, Kelda Chua, 19, a third-year student from School of Infocomm (SOI), was glad to see a good turnout for the show. She said: "In future, I hope for our community to grow. Then we'll be able to have a grander, even more fulfilling Flame Awards for the awardees and the school."