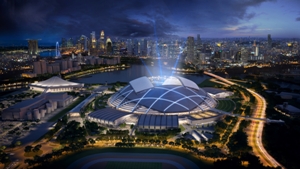 SEA games
The 28th Southeast Asian Games commences next year on 5th June and wraps up on the 16th of the same month. This is the first time Singapore is hosting the SEA Games since 1993. The Singapore Sports Hub is expected to feature prominently, hosting most of the events.
Eleven nations are participating, namely: Brunei, Cambodia, Indonesia, Laos, Malaysia, Myanmar, Philippines, Singapore, Thailand, Timor-Leste and Vietnam.
These countries will compete in 36 different sports, ranging from traditional ones such as badminton to the modern billiards and snooker.
Copa America
The 2015 Copa America will begin on the 11th of June, with the final played on the 4th of July. Hosts Chile with key man Alexis Sanchez will be looking to make an impact after their World Cup heroics against Brazil. Other nations coming over from the World Cup this year include Columbia, Ecuador, Mexico, and Brazil, along with runners up Argentina who will be looking to impress.
Rugby World Cup
The 2015 Rugby World Cup begins in the fall of next year. It starts on the 18th of September and ends on 31st October. Twenty nations compete as England hosts this quadrennial event. Popular venues in English football will also be used such as Wembley Stadium, Newcastle's St. James Park as well as Manchester City's Etihad Stadium. Hosts England last won at the 2003 Rugby World Cup, with a second place finish in the competition four years later.
New Zealand, as always, are the favourites to win the World Cup and all eyes will be on Sonny Bill Williams as he will be key if the All Blacks manage to win.
World Championships in Athletics
The 2015 World Championships in Athletics, or the IAAF World Championships, begins on the 22nd of August and runs for a week until the 30th.  The city of Beijing will host this prestigious event for the first time in its history, with the Beijing National Stadium, or "Bird's Nest", as the main venue. The blue-ribbon event is the 100m sprint, which has been dominated by six-time Olympic and eight-time world champion Usain Bolt of Jamaica. Can anyone stop Lightning Bolt?
Asian Cup
The 2015 Asian Cup begins next month in Australia on the 9th of January, with the final being played on the 31st .
Iran and Australia, who played at the World Cup this year, will also compete in this competition for the rights to participate in the 2017 Confederations Cup.
Teams like South Korea, China, Jordan and the United Arab Emirates will also be vying for a taste of the trophy.
Defending champions Japan need to prove their worth after an unsatisfactory World Cup performance.
Hosts Australia are the favourites to win the tournament. With the fantastic Tim Cahill and forwards Robbie Kruse and Mathew Leckie, the Socceroos might just bring the trophy home.