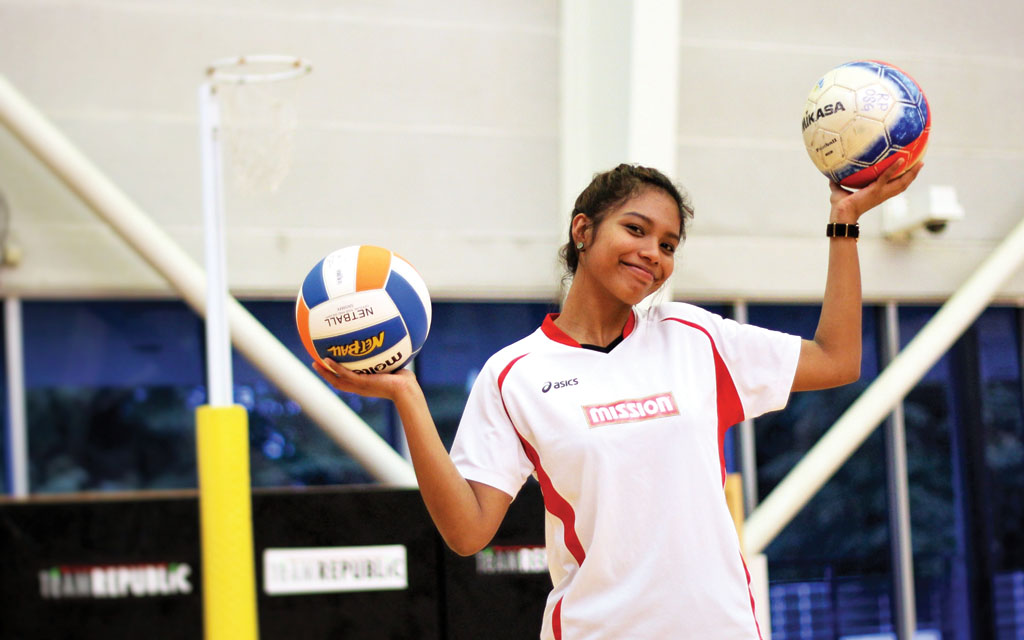 You may spot a familiar face if you catch Singapore's netball team and the Republic Polytechnic women's football team in action. Aqilah Andin, who stands at 1.75 metres tall, is the key cog for both teams.
The 18-year-old was part of the national squad which was crowned Asian netball champions in Sept last year. The team also finished runners-up at the Nations Cup held in Singapore in December.
Off the hard court, Aqilah had also achieved success on the field. Last November, she was part of the RP team that clinched their third consecutive POL-ITE title.
Aqilah, who is pursuing a Diploma in Sports Leisure and Management, said she was always interested in sports since she was a child.
"When I was young, my father influenced my brother and I to play different sports, and it has stuck ever since," she said.
Aqilah's talent and passion for sports caught the eye of her primary school teacher, who urged her to try for a place at the Singapore Sports School. Aqilah eventually impressed selectors and earned a place in the school.
"I guess my height played a part," she said. "In my first year, I had no skills but because we trained every single day, I managed to improve."
It wasn't long before selectors from the national team came knocking on the doors. In 2012, when she was just 16, she was called up by the national team, making her the youngest netballer to represent Singapore.
"It was quite shocking and scary because I was very young when I got selected," said Aqilah. "Everyone around me doubted as to why I was selected when there were better people than me."
But the defender has repaid the faith shown in her, and she has since represented the country 25 times.
As for football, Aqilah picked up the game through kick-abouts with friends and neighbours at the void deck.
Last year, she participated in the trials for the RP team as a goalkeeper, but her coach later converted Aqilah to a striker. Aqilah went on to repay her coach's faith when she scored three goals in the POL-ITE games, even though she acknowledged she is more comfortable with the rules of netball than football.
Aqilah brought up a recent example of how she had ran on to a delightful pass, but had forgotten about the offside rule in football. "I sprinted my life away for the ball but it was ruled offside," she said. "My coach screamed, 'Watch out for your offside', so angrily that I got really scared."
Asked about how she strikes a balance between sports and studies, Aqilah credits her school mates for their help.
"I have great friends who help me catch up on the modules I missed," she said. "I will also read through the lessons I did not attend as to prepare myself for the understanding tests."