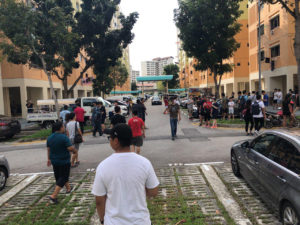 Sqkii's "Hunt the Mouse" game returned for a second year in Dec 2018 and has involved 400,000 people, according to the local startup.
The mouse refers to a gold coin and the game involves uncovering a series of clues which will lead the participants to the elusive coin, which will be exchanged for the grand prize. Last year's challenge was won by two friends, who will share the $100,000 prize money with seven others who helped in the hunt.
Sqkii (pronounced "squeaky") is a promotions aggregator app started by three undergraduates five years ago. They came up with the "Hunt the Mouse" campaign in NTU as a guerilla marketing campaign. In 2017, it organised with OCBC an islandwide version of the hunt with prize money of $50,000.
The interactive nature of the game has given birth to many communities, with a popular Telegram group boasting more than 6,000 members in discussion over the whereabouts of the coin.
Dunman High student Joel Teo, 18, is an active member who has lauded the game for helping him forge many friendships. "This game is like a dream for me as I get to meet new people and build new connections," he said.
Unfortunately, there have been reports of errant players destroying public property and causing noise disturbances to residents. This has forced the organisers to adopt a tougher stance against those who do not abide by the rules.
"We believe that most of our participants are very considerate people. For those players who have created a nuisance, we will not hesitate to disqualify them," said Sqkii co-founder Kenny Choy.
Joel, on the other hand, hopes that such bad apples do not turn start-ups like Sqkii away from organising similar campaigns that offer an avenue for everyone to be involved. "The rules are there for a reason. If we all abide by it, everyone wins," he said.