The hip and trendy hangout place, *SCAPE, has recently revamped their mall to attract, engage and create more opportunities for youths today. Grabbing this opportunity was Republic Polytechnic's (RP) very own student-led store Social'ution which was launched alongside the *Scape Mall Revamp on 9th November.
Social'ution was set up as a live lab for the students from the Diploma of Social Enterprise Management (DSEM). From marketing and branding to product development, the students are put to test in their business skills as they handle every business aspect of the store allowing them to experience how social enterprise works in real life.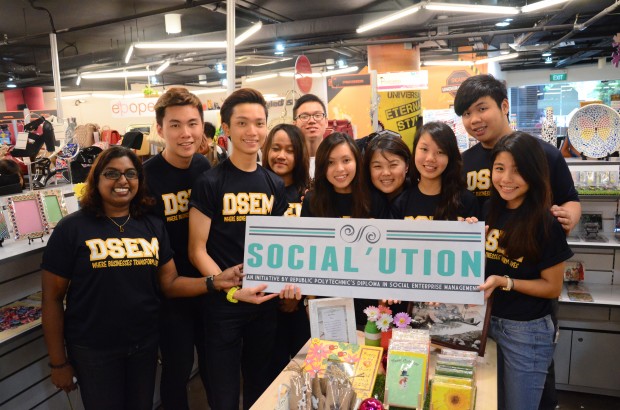 Currently, Social'ution sells accessories and gift items made by the Friends of the Disabled; a non-profit organization that helps to meet the physical, social and emotional needs of the disabled. The store's mission is to seek empowerment for the displaced in society.
"It's been one month since it was set up and things are getting better and better, it takes time and effort to build recognition for a business," says Chaw Yeong Soon, Year 1 student from DSEM.
"What we learn in school is just theory based so now we are able to apply it into this business," he added, "I think that it's a very good experience for us to put our application into this real life retail form."
Along with the plans to engage and create more opportunities for youths to tap into their talents, *SCAPE's Retail entrepreneurship Hub is starting a new one year lease with young entrepreneurs who are keen to start their own business.
"It's still early days because we just took over the space a few weeks ago but I hope that eventually, we could leverage on that space to work with more social enterprises or even projects from our own students," said Mr Warren Wang, Director of Centre for Enterprise and Communication (CEC) .
"I think this would really help the students to put into practice what they learnt in the classroom and work on real life challenges that any entrepreneur will face setting up any business. So I am glad that we were allocated a space here for our students."
Having groomed many young local business startups over the past few years, *SCAPE seems to be a promising platform for RP students to build up entrepreneurship skills even before they graduate.
Social'ution is located at *SCAPE Underground.