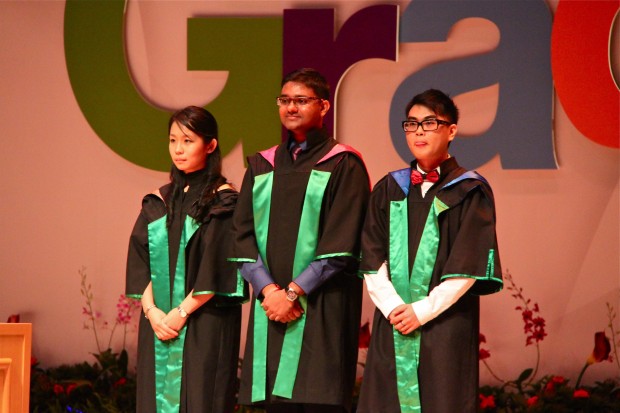 An important rite of passage in a young person's life is the day he or she graduates from a tertiary institution. And to celebrate this milestone, Republic Polytechnic (RP) pulled out all the stops for its eighth graduation ceremony on the 28th of May. Kicking off the three-day programme was guest-of-honor Mr Tan Chuan Jin, the Acting Manpower Minister who delivered a speech that challenged graduates to find their purpose in life and to do work that is useful to others in society.
"What determines success, as related to the earlier question I asked all of us here about what really matters to you, is not just how much  money you make or how high on the corporate ladder you climb. It will often really boil down to a couple of things. It will be the difference that you make to the people around you. The way that you treat people,'' said Mr Tan in his closing remarks.
And treating people well is something medal-winner Phoebe Yew Eian Kian, 25, knows a thing or two about. The Diploma in Customer Relationship & Service Management (DCRSM) student graduated with a perfect 4.0 grade point average (GPA). Her aim is to be ''in the hospitality industry delivering top-notch service to customers''.
"It is important that we find something that motivates us because it gives us a goal," said Phoebe who was awarded the Nanyang Scholarship by Nanyang Technological University (NTU) to study in the Wee Kim Wee School of Communication and Information.
Related Story
Another point Mr Tan made that resonated with graduates was about being relevant in a fast-changing economy. He said: "Technology may advance quickly, causing what we learn today to become outdated. However, the ability to solve problems will not be irrelevant." And this is something RP does really well in.
Xavier Tan Khen Leong, a 22-year-old holder of a Diploma in Aerospace Avionics (DAA) one of RP's top graduates and the sole recipient for the Tay Eng Soon Gold Medal, which is presented to the most outstanding graduate who has advanced from the Institute of Technical Education agreed with Mr Tan. Having attained a GPA of 3.92, his academic journey demonstrates the importance of RP's learning pedagogy.
"It is important that we find the learning style which suits us. RP's Problem-Based Learning (PBL) approach suits me because I am able to catch up easier and is instrumental in helping me do well," said Xavier, who has a place to study Engineering at NTU.
A total of 4,060 graduates from 35 different Diploma programmes graduated this year.