Ms Kim Eun Choo, better known as being acclaimed Singaporean film director, Mr Eric Khoo's wife, recently came down to Republic Polytechnic to spend some time with the students as well as donate to needy students through the "Rose Marie Khoo Foundation".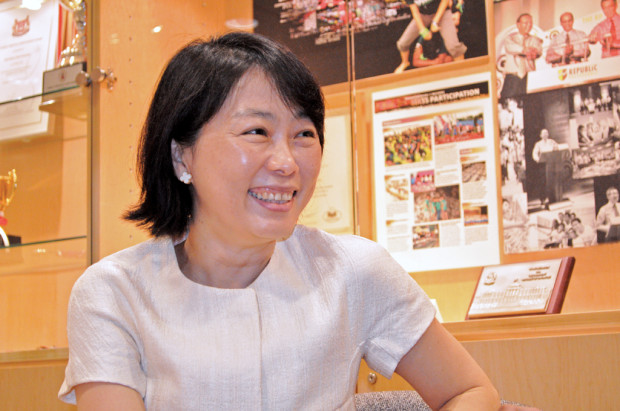 Ask anyone who is a local film buff and they are likely to tell you about Eric Khoo, one of Singapore's best-known local film makers. Much has been written about him and he is often in the public eye. But when you search for information on his media-shy wife, you come up empty.
Luckily for us, Ms Kim Eun Choo took the time out of her busy schedule to visit Republic Polytechnic (RP) as she attended a tea ceremony, which was arranged to honour the recipients of the Rose Marie Khoo Foundation Bursary Award. And she made some time to speak exclusively to The Republican Post after the ceremony.
She first spoke about her mother-in-law, after which the foundation is named. "She stood out because she was always well dressed, yet she was very approachable and down to earth at the same time," said Ms Kim, adding that Mrs Rose Marie Khoo treated people from all walks of life well.
Her late mother-in-law was constantly seen in the public eye, having been married to the late business tycoon Mr Khoo Teck Puat who at his prime, owned hotel groups and had large stakes in multi-national banks. Mrs Khoo was well-known for her generosity.
Money from the fund goes towards scholarships, bursaries and the Student Pocket Money Scheme which are all under the umbrella of the "RP Needy Student Fund". The fund aids students who come from troubled family backgrounds or those who have financial constraints.
Ms Kim says she takes the opportunity to add her own creative input to her husband's movies and short films. "Although Eric has a team of people that he works with to generate ideas, he always talks to me and asks for my point of view as well," she said.
Which is her favourite movie of his? "Twelve Stories" and "Be with me". "I like that because they have a strong message about family.''
Would any of her sons, all teenagers, take in their father's footsteps? "Yes, my oldest. He has shown a huge interest in film and the arts from a young age. He is currently working on his second short film, having already directed one,'' said the proud mum.
As a parting shot to RP students, Ms Kim said: "I think that it is important for one to pursue a career in something that is of interest to them, which you find a passion in because it really affects your whole life and eventually who you find in terms of relationships and friends."