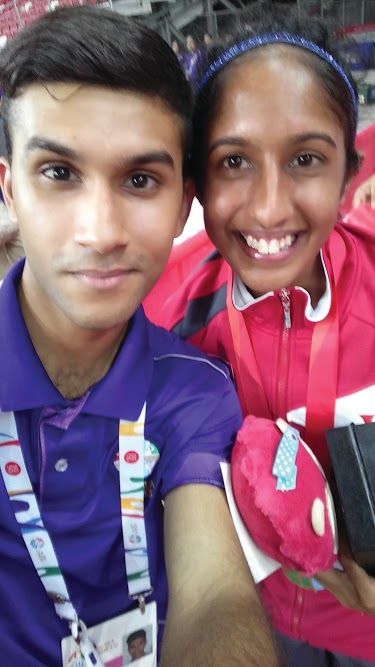 I was assigned to the two most popular sports in the SEA Games – athletics and football. Every day was a 12-hour work day and it was nothing short of hectic.
My job was to help out in the 'mixed-zone' for all seven days and this is the area where the athletes would walk through after their respective competitions and the media gets to interview the athletes. In other words, it was a crazy place.
We were expecting a substantial amount of media channels to be present during athletics but the actual turnout was overwhelming. Regional and international media representatives were present for almost all the events.
During the 200m Women's Finals, everyone's eyes were on Shanti Pereira, who, the day before won the bronze medal for the 100m final. As the gun went off, the atmosphere at the Sports Hub was "electric".
If you had seen the TV telecast you would have seen how the crowd went wild when she clinched the gold medal. As the volunteer on the ground, the response at the mixed zone was wilder. If she was besieged, so were the volunteer media relations officers. Many media outlets shouted at me to make sure I got them an interview with Shanti.
Everyone wanted a piece of Shanti. From her coach to her team members and her parents. The challenge was not so much getting her there but getting her out of the zone for the victory ceremony. In the melee, I ended up in the TV frame with her!
The experience was something I am unlikely to forget. I did things I never thought I would, like translating for a Chinese-speaking Singaporean athlete and running an entire lap around the stadium just to locate an athlete for an interview. We learn interesting scenarios in class but this stint taught me more. I feel lucky for having that chance.