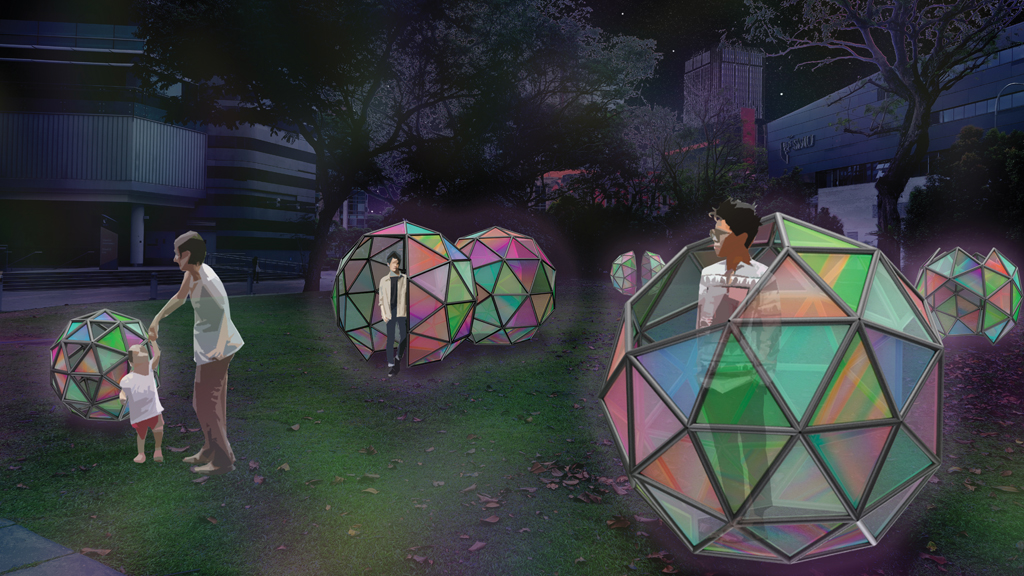 For nine nights in August, Bras Basah and Bugis would be turned into a canvas for artists to fill the area with an array of dazzling lights and performances. This is when the Singapore Night Festival returns from August 18 to 26.
To mark its 10th anniversary, the Festival issued an Open Call for ideas where any artists who are either Singaporean or Permanent Residents could submit a design proposal for their installation which would then be assessed by a panel of judges. This gave many artists the opportunity to have their idea come to live during the festival.
A team of 10 students from the Singapore University of Technological Design (SUTD) was one of the teams who was selected. The team, known as Praxis+, is made up architects, engineers and computer scientists, and they would be putting up a long interactive tunnel named "Phosphene".  The purpose of the installation is to take the visitors on a journey and the SUTD team wanted to give visitors a chance to capture the experience and them an opportunity to relive old memories from the previous festivals and create new ones.
Jonathan Ng, one of the team members, said the scale of the installation was the main challenge which they had to overcome. "The biggest challenge I feel would be the installation itself. We are trying to do a pretty big installation and it's our first time doing it so it's really the monumentality of it," he said.
But the team relied on the members' professional training. For example, the architects designed the structure and the computer engineers did the programming and how it would interact with the users.
Interaction with the public is a key component in designing an engaging installation. During last year's edition of the Singapore Night Festival, Instagram was filled with pictures of an installation called #showerthoughts. Designed by a team known as LiteWerkz, visitors could enter the mirrored room with coloured lights and the mirrors made it seemed like the user was in a room filled with endless lights which made it a very "Insta-worthy" spot as well.
LiteWerkz are back again this year. Their installation is named Tessellations of Time and the aim is to introduce the idea of time and memories. "This year, we wanted there to have more interaction not only between the public and the installation, but within the public themselves," said LiteWerkz member Syahid Tan.
From being just a small festival in 2008 along the National Museum, the Singapore Night Festival has expanded all the way from The Cathay at Handy Road to Armenian Street. The Festival's Creative Director Christie Chua said the event has grown due to the experience it has provided to the public.
She said: "The Singapore Night Festival is a very thought-provoking experience and it really transforms the precinct. People walk through here every day but at night it transforms itself into something absolutely magical."