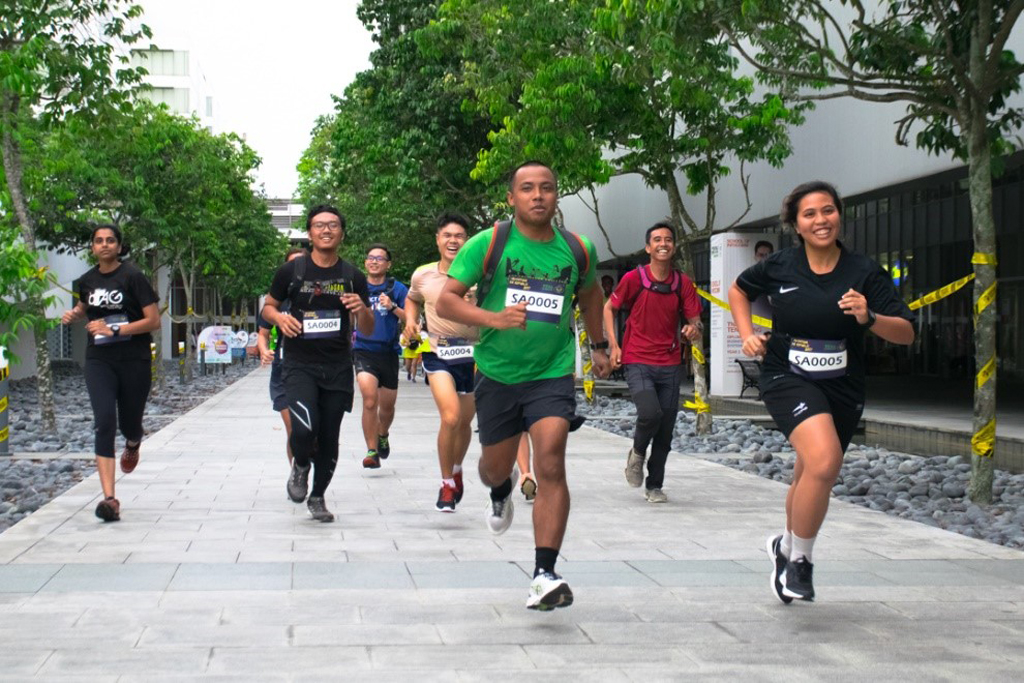 Organised by the Adventure Learning Club and in collaboration with Battle Republic Annual Games (BRAG), the Avontuur Night Race was filled with high-impact activities that gave participants an once-in-a-lifetime experience.
RP students, facilitators, staff and alumni joined forces to form a team of three to run, climb and abseil through the different stations along the 6km race course that explored the urban landscapes around Woodlands.
Tan Xiu Ting, race director of Avontuur Night Race and vice-president of AL Club, said: "The different stations and mini-games were specially design by our trained committee to make sure that every racer get to try a new experience."
Mohammad Faiz Jamil, a Game Design alumnus and a former member of AL Club, added: "Even though it was not a long-distance race, I felt that it was the right level of difficulty for all RP students to try out the different elements that we do in the AL club."
Amidst the hectic school semester, the race was a great chance for participants to spend some quality time with their friends and even facilitators. The racers also enjoyed the beautiful sunset with their friends as the race began.
Organisers wanted participants to strengthen their relationships with their teammates and learn the importance of teamwork through the race. Thus, the checkpoints were designed to ensure that the tasks could only be completed as a team. "You can go far alone, but if you want to achieve something big, you need people beside you," Mohammad Faiz, 24, said.
This year, the organising committee also placed more emphasis on encouraging greater diversity in the competing teams. One of the requirements to compete was to have at least one member from the opposite gender in the team. Facilitators were also able to team up with students and race in the students' category too.
Organisers felt this gave an opportunity for RP students to bond with their facilitators and get to know them better outside the classroom.
"Working with different types of people not only helps bring them out of their comfort zone, but it also teaches them how to accept with their teammates' strengths and weaknesses and leverage on it in order to win," Xiu Ting, 21, said.
Joy Goh Yan Jie, 19, a second-year Outdoor and Adventure Learning student and one of the winners for the student category, added: "The constant motivation from my peers throughout the race and the thirst of winning the medal together as a team was the secret to reaching our goal."