In contrast to the English Premier League (EPL) where clubs like Liverpool, Chelsea and Manchester United are usual favourites amongst Singaporean football enthusiasts, little is known about non-EPL clubs like Paris Saint-Germain (PSG) of France and Spain's Atletico Madrid.
But these clubs do have a passionate, albeit small, local fan base here who turned up to offer their enthusiastic support for the International Champions Cup competition at the National Stadium on the 30th of July 2018. In contrast to games featuring English club Arsenal, there was a notable drop in crowd attendance at the match between the two non-EPL teams.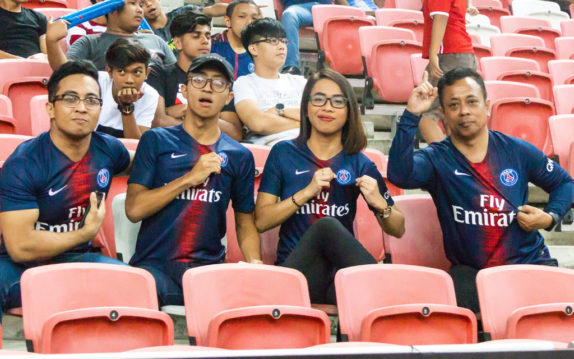 Not that it matters to PSG fans such as Jefri Sabani, who was drawn to the match by the French team's star-studded travelling roster that included the likes of Ángel Di María and Marco Veratti. The 53-year-old keeps track of a variety of international football leagues and emphasised on the difference in the style of play.
He says: "The way they play, I mean France compared to England, the style of play is so much different, like the flow of doing short passes. I think France, they play very interesting football as compared to EPL where they mostly play long passes."
Despite having to adjust to different and later time zones for non-EPL matches, Mr Jefri insisted that passion for the sport overrules such minor inconveniences.
"I think it's no different (in terms of supporting foreign leagues), it's for the love of the game, the love of football, I think any teams that play, the entertainment value is always there, and it's good to see your favourite team win."
The match also drew supporters from other countries, one of which is Atletico fan Irwan Awang, 38, who visited from Brunei with his brother to watch the game.
Mr Irwan explains their interest in the Spanish league: "Obviously, for the Spanish, we like the skills. The difference between the EPL and the Spanish League is that the Spanish are more towards skills, and the pace of play, tactics and the way they play are different actually."
Atletico, the reigning Europa League champions, was where players like Fernando Torres and Sergio Aguero made their names before being bought by the big English clubs.
Seen at the National Stadium were many who donned the uniquely coloured jerseys of both teams. However, some fans found it harder to purchase the teams' official club merchandise.
Mr Irwan, who proudly wore his Atletico jersey, explained: "Actually, it's (a bit) harder for us to find, and we go for pre-orders online and that's how we get them. I do online and pre-order them because Atletico is more difficult to find."
Faizul Islam, 19, who supports PSG and English club Manchester United, agreed with Irwan. He wishes that there would be a wider selection for PSG merchandise besides the club's alternate kits.
"Shopping for a PSG jersey is different (as compared to Manchester United) in a sense that the pieces sold are very little compared to more well-known clubs," he said. "So it might be a little difficult for you to get your right size."
The Republic Polytechnic student has been a fan of the French club since 2013, when the club boasted names like English superstar David Beckham and prolific Swedish striker Zlatan Ibrahimovic. He expressed his excitement at seeing PSG's performances this season, with the likes of Brazilian prodigy Neymar Jr, French teen sensation Kylian Mbappé and Uruguayan stalwart Edinson Cavani linking up with the squad soon.
Faizul added: "The Atletico vs PSG game gave me goosebumps while watching it. The young talents were very promising, and I wish to see them get more game time in the upcoming season. I can't wait for PSG to dominate the entire league like they've been doing for the past few seasons."