After winning a Medallion of Excellence at the "Youth Olympics of Skills", former school rugby player Muhammad Danial Suboh has his sights set on being a chef.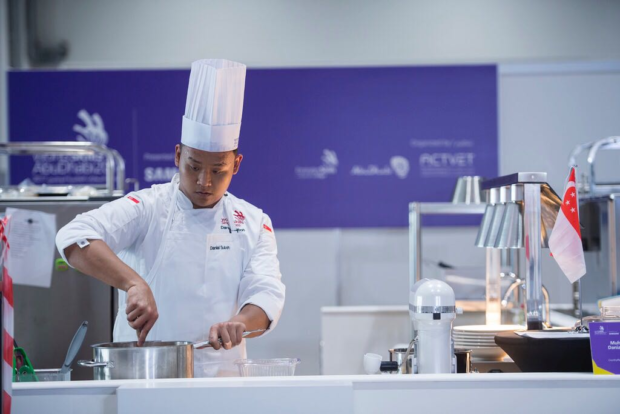 Just a few years ago, Muhammad Danial Suboh left his mark on the field as a rugby player for St. Andrews Secondary. Now, the Diploma in Restaurant and Culinary Operations graduate is starting to make an impression in the kitchen.
At the biennial WorldSkills international competition held in Abu Dhabi in October 2017, Danial clinched the Medallion of Excellence in cooking. His recent success at the global competition came after he won RP's first ever gold medal in cooking at Worldskills Singapore 2016.
"I feel very satisfied to be able to achieve something out of the competition," the 20-year-old said. "The journey leading to the competition was not easy but I guess my hard work paid off."
Danial switched from rugby to cooking after he fell in love with the food plating and presentation he had witnessed on cooking shows.
Helping his mother in the kitchen since he was 15 also fuelled his interest in cooking. "Back in his secondary school days, he kept coming to the kitchen and volunteering to help me cook. He also asked a lot of questions regarding preparation of certain dishes," said his mother, Madam Roslin Saleh.
She added: "There are times he started cooking on his own after reading cooking books and watching cooking videos on YouTube."
The first competition Danial took part in was Worldskills Singapore 2016. "I entered the competition because I wanted to challenge myself further," he said.
Danial was also inspired by the success of Singaporeans in culinary competitions and hoped to follow in their footsteps.
At the recent Worldskills competition, Danial had his chance. The event, dubbed the "Youth Olympics of Skills", featured a record 1,300 competitors from 59 countries and regions.
Danial was required to complete the tasks within a certain time. He also had less time but more dishes to prepare compared to the competition in Singapore.
Danial said: "Everything (in cooking) needs to be done with finesse, unlike rugby where you have to be aggressive."
Danial deferred his National Service (NS) to train intensively for the recent competition. He also credited his culinary successes to the chef instructors in his diploma.
"I am happy with his achievement," said Chef Jaslyn Leong, one of Danial's facilitators at RP. "He worked hard and deserve it. I am proud of him."
Madam Roslin Saleh is also as proud of her son. She said: "He had worked really hard and sacrificed a lot of his free time for this."
"A well-deserved break awaits him," she added.
Danial is keen to participate in cooking competitions after serving his NS. He also aspires to be a chef in the future.
When asked which sport he would choose, he said: "I would say cooking because I see a future in that. I would probably play rugby casually like a hobby as I do have interest for that."