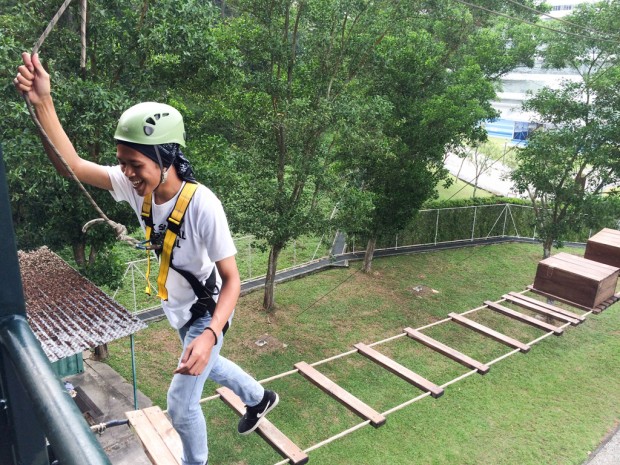 They had to overcome their fear of heights while 10 metres in the air, walking gingerly on a narrow balance beam, avoiding getting tangled in cargo nets and crossing a heart-stopping raider bridge. But in the end, they were grateful for the chance to conquer their fears.
A group of scholars from the Temasek Foundation Specialists' Community Action and Leadership Exchange (TF SCALE) programme were put through an obstacle course at Republic Polytechnic's (RP) Adventure Learning Centre on April 1 to build up their confidence.
The 25 Indonesian and 23 Cambodian scholars, alongside about a dozen of their Singaporean counterparts from RP, completed the task as part of their four-week stint in Singapore.
Related Story

"I am very excited, but also a little bit scared because I am not comfortable with heights. I think this experience will bring me out of my comfort zone and make me a more confident person," said Raditya Hendrawan, 20, an Indonesian scholar from the State Polytechnic of Malang, before going on the course.
Third-year RP student Yow Hon Yeen, 22, agreed.
He said: "It definitely helped me to build my confidence as we have to believe in ourselves in order for us to complete the course. Not only that, it also helps to nurture our character as we must have faith in ourselves."
The scholars also learned the tips and tricks of shopping for food rations before heading out to the nearby Giant Supermarket at Woodlands North Plaza to shop for their two-days-one-night stay on Pulau Ubin.
The scholars from Indonesia and Cambodia will be here till Apr 11 to work on joint projects with RP students as well as to immerse in and get exposed to the Singapore culture.