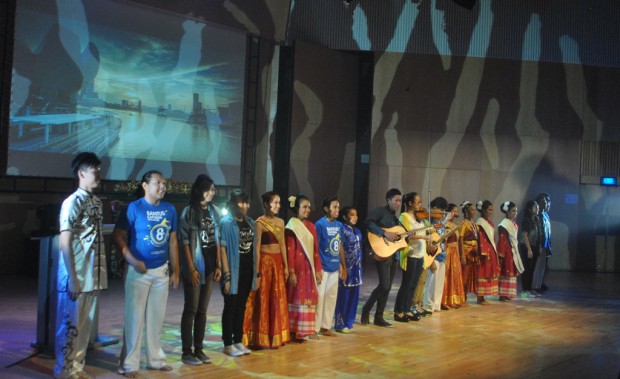 Republic Polytechnic (RP) played host as Temasek Foundation launched its Specialists' Community Action and Leadership Exchange programme (TF SCALE) at the school on Mar 28, 2014.
The programme aims to encourage cross-cultural learning amongst students on regional economic and community issues. Around 300 students from 13 institutions in Singapore, Indonesia, Cambodia, Vietnam, Thailand and Philippines granted opportunities to apply practical skills, technology and research in developing social innovation projects.
Previously a funder of programmes for teachers and other professional industries, the TF SCALE is the first programme that the Temasek Foundation has launched sponsoring students. The launch at RP kicked off with a cultural song and dance segment by RP students, setting the tone for the rest of the morning's multi-cultural performances and exchanges.
Speaking at the event was Mr Benedict Cheong, Board Director and Chief Executive Officer of the Temasek Foundation. Mr Chong explained the rationale of the programme: "At Temasek Foundation we feel leadership is a core theme of work, and we believe that if we engage with leaders at different levels and different fields, they can make a difference in their community later on." Mr Chong also said he believed such a programme was vital for the region, given the impact one country has on another. He said: "When Indonesia sneezes, Singapore catches a cold. The idea is that we are all in an inter-connected world; whatever that happens in one country in ASEAN, affects all of us in the region."
The TF SCALE programme starts with a four-week immersion in Singapore hosted by one of the three participating institutions of Republic Polytechnic, Singapore Polytechnic and Nanyang Polytechnic. This will be followed by two weeks in Southeast Asian host countries where TF scholars from Singapore will be paired with scholars from one of the other participating countries. A total of 50 TF scholars from Cambodia and Indonesia are now being hosted by 50 scholars from RP where they have been working on their projects and living together on campus for the past two weeks. The Singapore students will continue the project when they journey to Cambodia and Indonesia in September.
One of the projects under the TF SCALE programme is RP's Gourami Project, a collaboration with Cambodia's Royal University of Phnom Penh and Royal University of Agriculture. Over the next four weeks, 25 students from Cambodia will work with 23 students from Singapore on new ideas to rear Gourami fish and strengthen food security in the region. One of the Singapore students is Jocelyn Ea Shi Hwee, 19, from the Diploma in Material Science. Speaking about her forthcoming trip to Cambodia in September, she said: "I am excited to go there because I have never been there before and I wish to taste the food there and experience their culture."