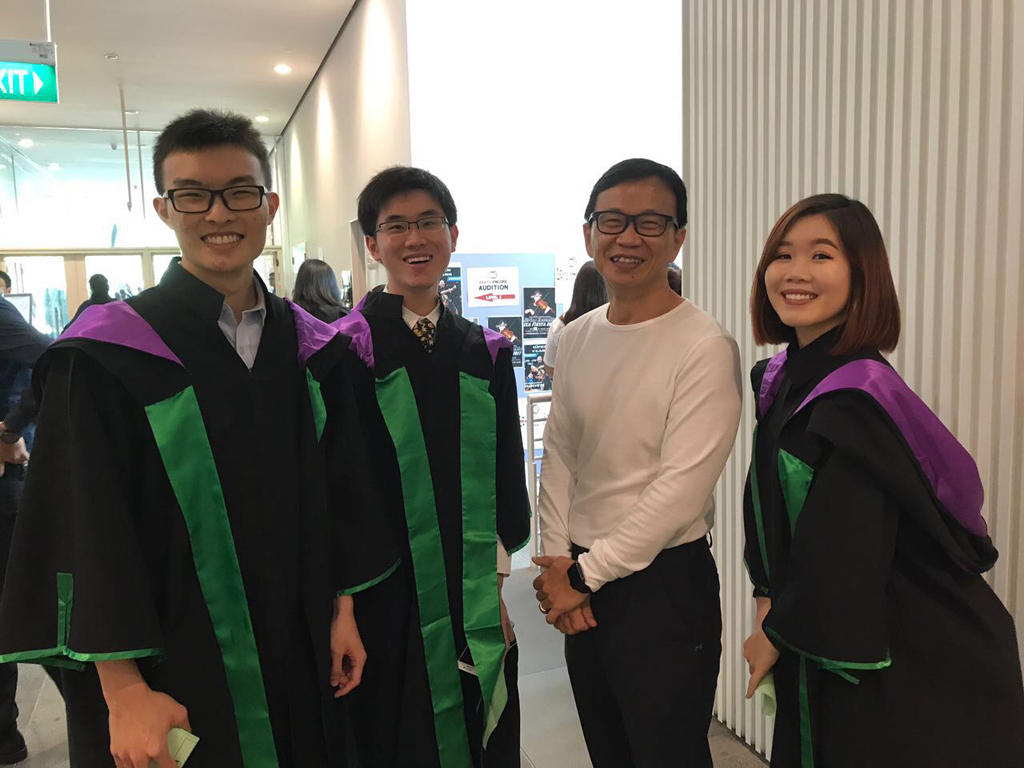 The pioneer batch of students who got into Republic Polytechnic through a fast-track scheme has graduated.
The Polytechnic Foundation Programme (PFP) provides the top 10 per cent of the students in the Normal Academic cohort provisional entry into their chosen diploma programmes across the five polytechnics here.  But the students need to pass all their modules in PFP before they can move on to their diplomas.
Brian Teo Rui Hsien who was among the pioneer batch of 94 PFP students in 2013, did not relish the prospect of competing for a place in a polytechnic via the O levels route.
"I never regretted choosing PFP. I don't think I would have preferred going to Secondary 5 and having to compete with other O level students," said Brian, who is graduating with a Diploma in Sonic Arts (Merit).
PFP also teaches the students to adapt to the presentations RP students have to do for their modules. Brian was tasked with his first presentation for a module called Project Management, where students had to present a prototype to a panel of judges.
"We had no idea how to present it and it was honestly quite scary but it prepared me for what was to come once I started my diploma where we have to present every day," said Brian.
Other students were grateful for the PFP programme. Jerry Ng Geng Ye, who was on the Director's Roll of Honour at the School of Hospitality, knew that it would be a challenge if he took the O levels route.
"I'm not really book smart, so when I did fairly decently for my N levels, I thought it was a great opportunity to get into polytechnic without having to do my O levels," said Jerry, who is graduating with a Diploma in Integrated Events Management. "In fact, most of my peers who chose to take the  O levels route did not do as well as they did for N levels so I'm really glad that I chose the PFP route."
Dr Soh Thian Ping, who was in charge of RP's PFP for three years, said the programme offered students a chance to discover their strengths. "PFP isn't a year where students have to mug as much as they do when they start their diploma. It's a year where they discover themselves, their strengths and weakness and especially their interests," he said.
Mr Ismail Tahir, who has been the Management Support Officer since PFP's start, said the programme offers students a chance to work together in teams. "We give the students a start in understanding how to work better in a team and the dynamics of being in a team which is important, especially in RP where most of the work are being done in groups," he said.
Mr Ismail added: "To have a handful of students asking me to be there for their graduation, I feel like a proud father."