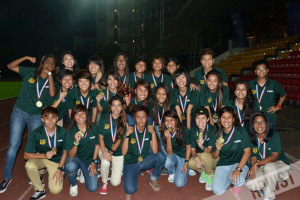 Republic Polytechnic's Women's Soccer Team has not only beaten stereotypes, they have also beaten the odds to win major games.
When you think of soccer, the first image that comes to mind is a bunch of boys gathering to support their team, discussing offside rules and goal strategies. In RP however, it is a special group of girls who are adept at scoring all the goals. RP's Women's Soccer team has more than shown their mettle on the pitch. Last year, they were crowned champions in the annual POL-ITE (an annual competition for polytechnics and ITEs), the first time in this IG's history.
One of the team members is Nathasha Lopez, 19, a second year Diploma in Mass Communications student. She remembers the day the team won. "I don't know how to express it in words… all I remember was running in the middle of the field celebrating. Some of the seniors were even crying – because they finally won something before they graduate… It was very emotional.''
From Humble Beginnings
Republic Polytechnic Women's Soccer Team, also known as RPWST, started out when the school was first established in 2002. However, due to a lack of players, the team closed down in 2005 and two years on, in 2007, the team was revived and started out with nine players.
In a sport largely dominated by males, it is not surprising that this team is largely made up of players who just started kicking a ball only when they joined the team.
"I was actually from Malay Dance! I wanted to try sports…but ultimately it was soccer because of my dad is a player, coach and referee", explained Team Manager Nur Sarmira Filzah, 18, a year two student from Diploma in Industry Operations Management.
For team captain Mustika Natasha, 19, a third-year student of Diploma in Sports Exercise Science, soccer was more of a blessing in disguise. "When I was in year one, I actually went for netball tryouts. It didn't work out for me. Then a friend suggests trying soccer. At first, we started playing at the street soccer court (basketball court in RP) then gradually move onto the field. I am actually glad I didn't get into netball, because if not, I wouldn't have realized my passion for soccer!"
A tight-knit family
It is clear when watching them, the team's strength lies in their tight-knit circle where no one is better than another.
"On the field, we never condemn each other, even if someone makes a mistake that cost us the match.  We always push each other to be better," said vice-captain, Nur Era Fazira, 18, a third year student in Diploma in Sports and Exercise Sciences.
The tight bond was apparent during the interview. There was easy banter among the girls and it is clear they know each other very well. Of the many outings and chalets organized for the purpose of team bonding, one trip in particular, stands out.
"Our pre-season trip to Kuala Lumpur was one to remember. Before this, we only have friendlies. When we started losing consecutively, and girls being emotional creatures, the disappointment in our faces was obvious and we start to question our abilities and ourselves. But our pre-season trip to KL changed all that.  We went against better teams like Singapore American School. It really motivates us (that we can square off against better opponents). So that trip was my best memory playing for RP," noted Team Captain Mustika, with a smile.
For now, the girls are busy preparing to defend their title. They are training hard but they wish for one thing: more support. These girls have been playing their home matches in RP in a near-empty stadium. "Although only a few spectators turned up – which was quite reasonable amount considering women's soccer does not attract a lot of attention like our male counterparts – but the feeling of winning it at home added to the sweetness of the victory. I hope we get more supporters this time around," she said.
Join the girls as they keep you updated with preparations for their upcoming matches and more: http://teamrepublic-wsoccer.blogspot.com/
– REPORTING BY: NATASHA HADI CHUA