There are ice-cream cafes, hipster cafes, middle-eastern cafes and now, there are cat cafes – where people get to eat and play with feline friends on the loose.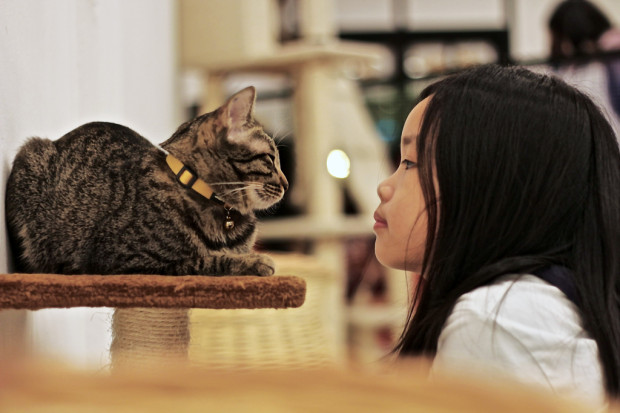 It is quite a sight stepping into The Cat Café. You smell savoury pastries, lasagne and freshly brewed coffee and then you see the different breeds of furry felines lazing at every beanbag, cat house or ledge they can find.
The Cat Cafe is a perfect balance between food and cat-therapy, serv­ing as a platform where cat enthusiasts who do not have the luxury of owning cats back home can come together and hang out with the cats.
"My parents are not fond of cats, so I can't keep one at home. Such cat cafes provide a safe and comfortable environment for people like us to have a chance in interacting with cats," said School of Hospitality (SOH) student Yeo Wei En, 17.
Admiring the cats also creates an opportunity for couples to bond too.
"We get to spend time together here and relax after a very busy day of school activities," said Neo Wei Kian, 17, who brought his girlfriend to the cat café as a surprise because of her love for cats.
The cats may seem familiar as they are either from the community or abandoned by their owners. Playing a part in giving back to society, The Cat Cafe works hand in hand with charity organisations such as Touch Young Arrows and the Cat Welfare Society on educating the public as well as contributing to their efforts financially.
The Cat Café is also the only one here that only charges a one-time entry fee, giving patrons' unlimited time to focus on adoring the cats without worrying about having to pay subsequent hourly charges.
"We didn't like the per hour model as it has too many restrictions for patrons to enjoy interacting with the cats. We felt that time should not be a concern when it comes to such interactions," explained co-owner of The Cat Café, Jefferson Soh.
Of course, with freedom comes a full house cafe. Thus, patrons might have to be placed on waiting lists during peak peri­ods before they can get their dosage of cat therapy. However, due to the large space, patrons usually have to wait for just half an hour before they can enter the cat café.
The Cat Café, which opened in June, follows another cat café – Neko No Niwa – which opened earlier this year. Three oth­er cat cafes that have sprung up over the past few months include The Company Of Cats (6B Mosque Street), Meomi Cat Café (668 N Bridge Rd) and Cuddles Cat Café (Scape).
Singapore's very first cat café Neko No Niwa – which means Cat Garden in Japanese – was built in memory of a belov­ed cat called Marbles which passed away. Owned by Tan Sue Lynn, 36 and Samuel Isaac Chua, in his 40s, the duo now parent three cats: Mitsu, Genji, and Rei.
Their experiences of cat cafes in Ja­pan was all it took for them to take a liking to the respect Japanese cat cafes for their cats; something they wanted to bring back home.
"The atmospheres in Japanese Cat Cafés are very calm and peaceful. There is something about them that is appreciated by cats and can be very well enjoyed by people," said Samuel.
A major factor for a cat café is loca­tion. Located at 54A Boat Quay, the route to Neko No Niwa cat café is not exactly a straightforward one. When Samuel and Sue were scouring a location for the café, they wanted cat lovers to experience ser­endipity while seeking out the place.
"You don't find the cat, the cat finds you," said Samuel.
Centre for Enterprise and Communi­cation student, Rachel Ng Ru Yi, 18, is one of many cat lovers who spends an hour and a half of her time at cat cafes with her friends since its opening.
"The tranquillity you experience when you're in the café makes you feel re­laxed instantly. When you see all the cats lazing around, you can't help but want to do the same," recalled Rachel.
However, beneath the platform of being just a cat café for passionate cat enthusiasts to relax around furry felines, there is a bigger message that Neko No Niwa wants to shed light on since open­ing its doors in December last year.
The café hopes to bring awareness on the growing issue of community cats that are abandoned and homeless; a problem that many are oblivious to.
"With the rising number of aban­doned cats, I would think twice before adopting one. It is incredibly selfish to adopt a cat just because it is "cute", be­cause responsibilities are another thing you have to take into consideration," said Rachel.