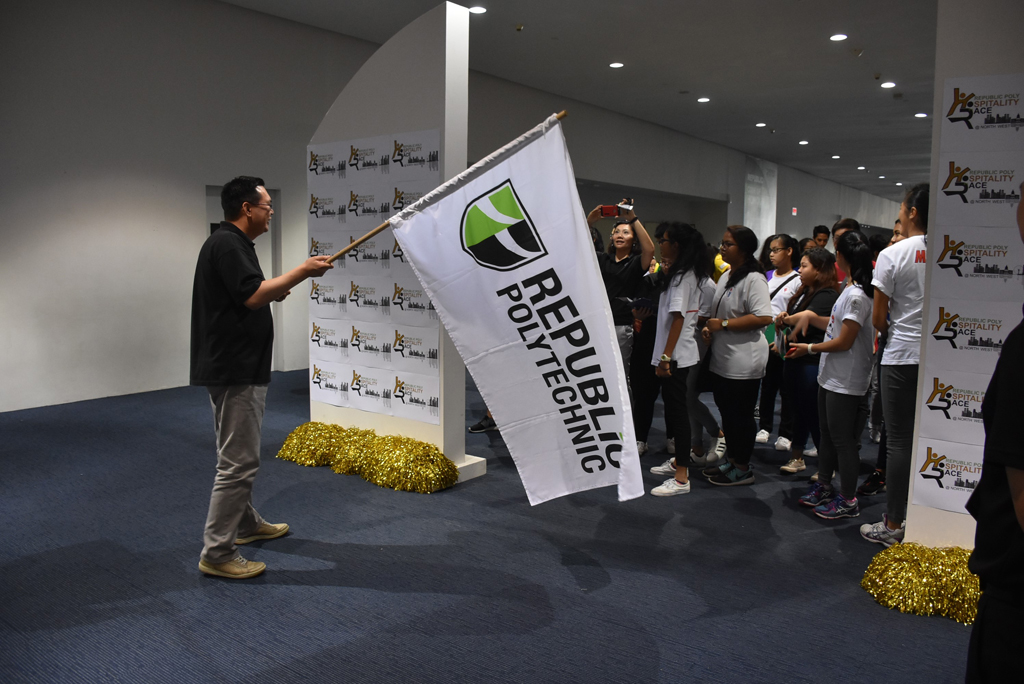 Letting participants have a taste of the tourism and hospitality business was the aim of the inaugural Hospitality Race, organised by Republic Polytechnic's School of Hospitality.
Held on Sept 8, the race that was partially funded by the North-West Community Development Councils (CDC) under the WeCare fund, saw 60 participants from various secondary schools in the North-West zones.
The flag-off for the first part of the race was the Civic District area to expose the participants to the vibrancy of the tourism sector. At the Victoria Theatre and Concert Hall, Singapore's oldest performing arts venue that is renowned for its theatre and musical events since the late 1800s, participants had to record a 30-second video performance.
Back in RP for the second half of the race in the afternoon, the teams had to locate various facilities such as the Hotel labs, Restaurant labs and Retail lab. In each of the labs, the participants had to earn points by completing challenges that were relevant to the locations they are in. For example, in the Restaurant lab, they had to identify different spices and herbs by using their five senses.
At the end of the day, Naval Base Secondary School emerged champions, walking away with $800 of Capitaland vouchers, a medal and certificate.
Naval Base students Mohamed Azman Bin Mohamed Ashtik and Daylan Thivyan Paranthaman, both 15, said that it was their determination that contributed to their success.
"We just told ourselves that it's a once in a lifetime opportunity," they said in unison.
Winning aside, Azman said that his team learnt a lot about the tourism and hospitality industry through the race.
He explained: "We went around the business estates and I learnt a lot about the different aspects of the business estates. Like there's something for everyone there."
Ms Yeo May Lee, project manager of the Hospitality Race, said an important aspect of the race were the skillsets that participants had to showcase.
"It's not just winning the race or the competition, the skillsets that they use to get through are important – like how would you divide the work among your team members, they need to learn collaborative skills. And lastly, communication," said Ms Yeo, adding that these were some skillsets that the students would need to work in this sector.
Pleased that the everyone had completed the race successfully, Miss Yeo said that she hoped to involve more industry partners in future.
"Firstly, I'm very happy and glad that everyone is back here safe and sound, and they have completed (the Race) successfully. Nobody is hurt and everybody's happy," she said.
"I have the conviction that this will continue for next year."