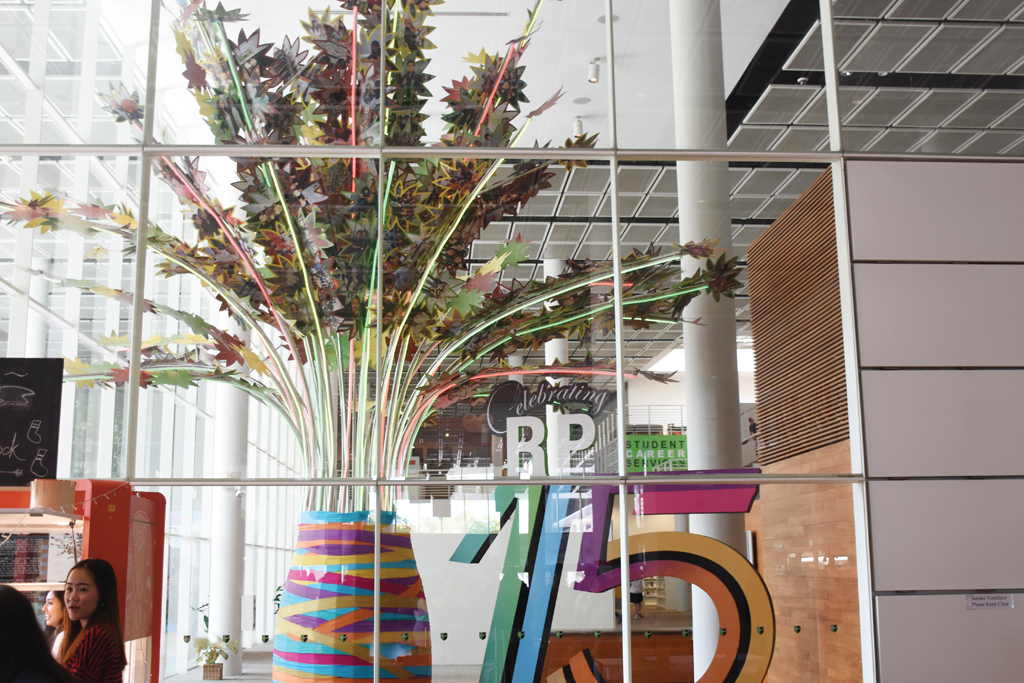 A RP graduate was behind the idea of an illuminating tree which captured the memories of RP over the past 15 years.
Song Ming Fu, a Diploma in Integrated Events Management graduate, designed the tree during his internship as a project coordinator at events company PICO. The 20-year-old took a few weeks to develop the idea and concept of a tree that illuminates. It is now on display near the South Entrance of the Library.
Ming Fu said the tree symbolised how RP students and facilitators are bound together by the branches and roots. "The root represents how RP first started and now it has blossomed; leaves with colourful lights and butterflies to represent how far and how successful we got," he added.
To make the tree a memorable symbol, Ming Fu incorporated the idea of 'four seasons' where the colour of the lights on the leaves will change every few months to represent a new season.
The tree is part of RP's 15th anniversary celebrations and a RP15 'Giving Thanks Campaign'.  The campaign is an initiative that aims to curate the collective gratitude of students, staff, alumni and friends of RP.
Felicia Teo Jing Yi, 20, a third-year Integrated Events Management student said: "The tree is a very creative idea to represent RP's 15th anniversary. I believe that every leaf in that tree means something to RP. I feel proud that the person who made the tree was from my course."
School of Hospitality Senior Lecturer Kelver Choo, who was also Ming Fu's mentor, said the design of the tree was a testament to Ming Fu's creativity. "While I am surprised to learn that the RP15 tree was designed by Ming Fu, I'm not overwhelmed as I know that he could be rather creative & profound sometimes," Mr Choo said.
Ming Fu said he was honoured to be given the opportunity to work on a RP project. "I think it is one of my biggest contribution to my school thus far," he said. "Personally, I wouldn't take most of the credit for the tree. It should also go to my internship supervisor and RP for all the collaboration and merging of ideas."