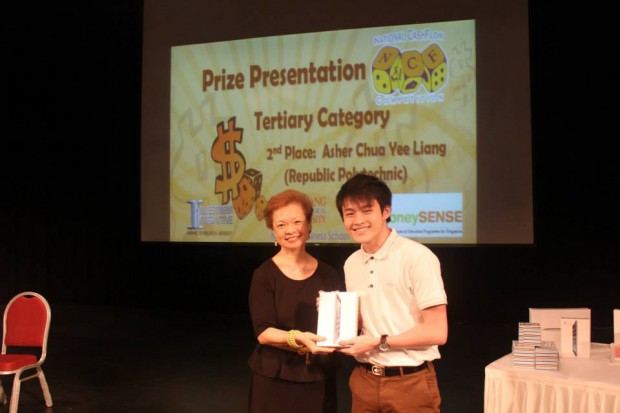 Republic Polytechnic has once again showed its technical prowess as three members of the Investment and Finance Interest Group (IFIG), Asher Chua, Octovan Foo and Ho Zi Wei emerged as first runner-up, second runner-up and finalist respectively in the Tertiary level of the prestigious National Cashflow Competition 2014.
The annual competition, organized by the National Technological University (NTU), features the use of the Cashflow 101 board game, which simulates financial events in life. Against 239 worthy opponents from 30 Tertiary institutions, from the likes of Raffles Junior College and Nanyang Junior College, our students managed to emerge victorious.
First runner-up, second-year SOI student Asher Chua reflected upon his experience being a part of the competition, saying, "It was a great experience for me to learn about financial knowledge and have fun at the same time."
Second runner-up, second-year STA student Octovan Foo expressed his gratitude towards his school for the fruitful experience, saying, ". I would like to thank Republic Poly and IFIG for letting me to have this opportunity to take part in this competition." And that he would join next year again if given the opportunity.
Although the top prize eluded us, it has been a fruitful experience and very commendable achievement for our students indeed.